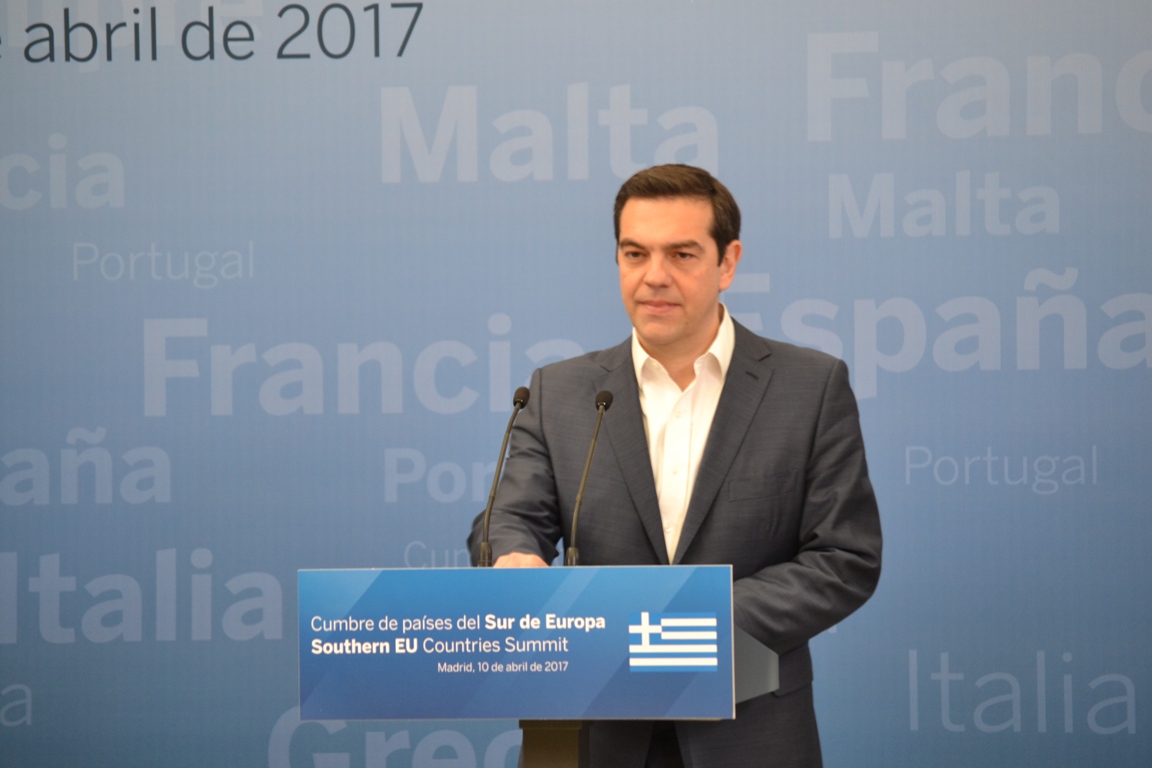 Complete satisfaction for the fact that the Declaration of Madrid makes clear reference to issues  relating to the European pillar of social rights on the basis of the European social and labour acquis, express government sources, as this issue is one of the main and constant pursuits of the Greek side.
Assessing the findings of the Third Session of the European countries of the South, the same sources indicate that the Greek positions on immigration are part of the Declaration. More specifically, regarding the revision of the Common European Asylum System, based on solidarity.
The same is the case for the position for a new process to economic convergence among the members and the position that combating unemployment is a policy priority, particularly long-term and that of young people.
As had previously been announced, Alexis Tsipras highlighted in his intervention the need for the EU to get involved in the process of finding a solution to the Syrian crisis. According to the same information, the PM stressed that that if Europe does not undertake diplomatic initiatives to resolve the Syrian problem it is would be like admitting its weakness.
The Greek Prime Minister made a reference on this point in his statements after the meeting, saying that "as countries of southern Europe that are connected by the Mediterranean sea, we have particular interest to have a coherent European policy, moving in the direction of ensuring peace and stability, and for this reason we agreed that the EU should take diplomatic initiatives in this direction".
In the same context, in the Declaration was also included a mention that the Southern European countries reiterate that there can be no military solution to the conflict in Syria and that: Only a credible political solution, as defined by UN Security Council Resolution 2254 (the 2015 decision that had been unanimously accepted and respect the road map for the peace process in Syria) and the Geneva communiqué of 2012, will ensure peace and stability in Syria and will enable a decisive defeat of ISIS and other terrorist groups in Syria that have been named by the United Nations.
The sources of government highlight the importance gained by the initiative of the Conference of European Countries of the South, which becomes permanent and enhances their coordination not only about the dialogue on the future of Europe, but also for the present.
In his statements Alexis Tsipras stressed that this initiative began last September, is established and becomes more and more essential, important for the course of the debate on the future of Europe, as important is the presence of the South in Europe European perspective. He stressed that the initiative has already helped to strengthen the bonds of solidarity between the participating countries and moves decisively towards contributing to Europe's future potential.
"We discuss not only the future of Europe but we discuss and present of Europe, how the South of Europe, which is at the forefront of major challenges in Europe, will be able to play a key role in influencing their correlations and intervening for the necessary change of direction. We are all of Southern Europe countries and active Member States of the Eurozone that maintain our belief in European integration, away from reasonable national isolationism", Alexis Tsipras said./IBNA
Photos: IBNA/Spiros Sideris