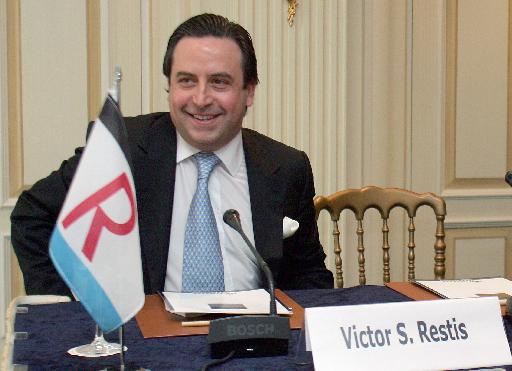 By Lefteris Yallouros – Athens
Greek shipping magnate Victor Restis was arrested by police in Athens Tuesday morning. Restis is accused of embezzlement and money laundering, while three other people linked to the case are also being sought by police.
The ship-owner was given until Friday to prepare his defence by the public prosecutor.
The case reportedly involves loans made by FB Bank, owned by Victor Restis, to companies he controlled. The bank's liabilities amount to EUR 524 million which Greek tax payers will have to pay in order for the bank to be bailed-out and be absorbed by the National Bank of Greece (NBG).
Mr. Restis issued an announcement that said he welcomed the decision of the authorities to look into everything to do with a EUR 5.8 loan from FB Bank to companies he controls and reveal where the money ended up. He also said he was willing to fully cooperate with the authorities in order for all relevant bank accounts to be opened and reveal who has really gained. The ship-owner also revealed he had filed lawsuits against former associates over the loan.
Restis was arrested a few months after prominent Greek businessman Lavrentis Lavrentiadis was jailed in December pending trial for involvement in a banking scandal. He has denied any wrongdoing.
Restis and his family had controlled FB Bank for some 12 years and is estimated to have put at least Euro 150m into the 16-branch operation of which it owned 64%.
Restis recently also refuted allegations FB Bank – that he and his family controlled – engaged in illicit dealings with Iran and busting US and European Union-imposed oil sanctions.