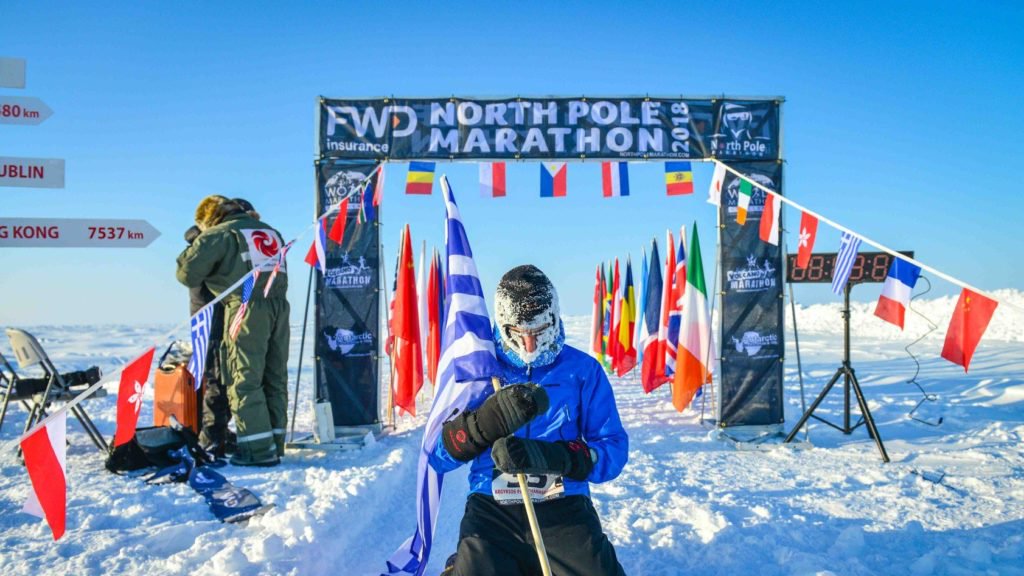 Men's Event: Greek runner Argyrios Papathanasopoulos (soon to become 46 years old) has every right even to boast about winning the "world's coolest" and northernmost race on the planet… the North Pole Marathon 2018.
The athlete from Greece "overcame 46 opponents and temperatures of minus 33 Celsius (27.4 Fahrenheit)" Reuters reads, at a race that is held annually -since 2002- at Camp Barneo.
"With the Greek flag in one hand and ice smothered across his face, runner Argyrios Papathanasopoulos fell to his knees in exhaustion – and celebration – after winning" the race, the news agency reported.
As for the sportsman's humour, it was not lost in the cold: "Almost unbelievable", he said after his victory. "You know I'm a Greek guy so this is not the right place for me; it's like an Eskimo running a race in the desert".
Argyrios Papathanasopoulos during the race
Papathanasopoulos won in a time of four hours, 34 minutes and 36 seconds.
Chinese Guoping Xie was the lady who won the women's event.
According to Reuters, "Australian runner Marcus Fillinger finished well down the field in 41st but did so accompanied by two husky dogs, Druro and Blue, the first canines to complete the marathon."
Marcus Fillinger with Druro and Blue
The North Pole Marathon
This very "cool" marathon race is run over the classic 42.195 km (marathon) distance at the North Pole.
The first ever but "unofficial" North Pole Marathon "was a 'solo' run by Richard Donovan on April 5, 2002" and lasted a little less than 4hrs.
Richard Donovan
The same Irish runner had won the first South Pole Marathon "ten weeks previously and became the first marathoner at both poles by completing the North Pole Marathon."
Officially, the first exploratory competitive race was held in the North Pole held on April 17, 2003, with ten people competing. "The winner was Martin Tighe (GBR) with a time of 5:02:10 in temperatures of −29 °C and difficult snow conditions throughout much of the course."
It is a sports event which the Guinness World Records have recognised as the "Northernmost Marathon on Earth"…. / IBNA
Main Photo: Argyrios Papathanasopoulos on his knees with the Greek flag in his hands right after crossing the finishing line