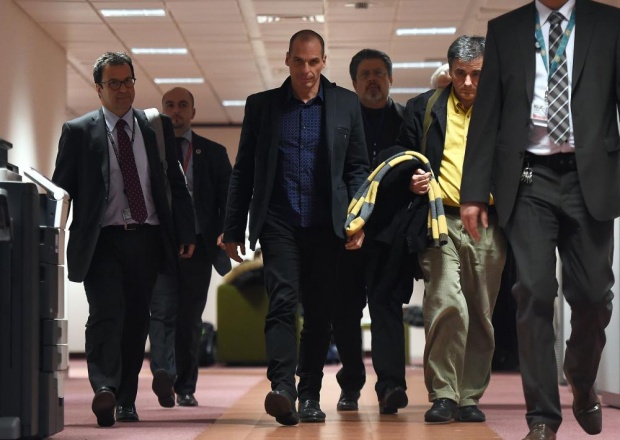 Athens, February 19, 2015/ Independent Balkan News Agency
By Spiros Sideris
Sitting of the Eurozone Working Group (Euroworking Group) will be scheduled for tomorrow Thursday and an extraordinary Eurogroup on Friday, in the case that the Greek government submits a request, in order to be examined in depth, according to an AMNA's source from the eurozone.
In any other case, the same source said, there will be neither a Eurogroup, nor a EWG.
Earlier, it was made known that tomorrow the Greek government will submit a request for an extension of the program, while a statement of State Minister Alekos Flabouraris noted that if there is no extraordinary Eurogroup the Greek side will call an extraordinary summit of political leader, as the issue is political, and if this request is also rejected, the government will not back down from what the Greek people have voted for.
The European Commission maintains a cautious stance, awaiting the document with which the Greek government intends to request an "extension" of the support Programme, but without the continuation of the terms of the austerity programme, which will be examined tomorrow Thursday during a meeting of the Euro Working Group.
According to a European source, this request will be discussed tomorrow in Eurogroup's Working Group, while before anything else it should be sent to the president of the eurozone, Jeroen Dijsselbloem.
The examination of the request by the Working Group, however, does not mean that a council of eurozone finance ministers will automatically follow, explained the source. Its council members may meet or talk by phone Friday on the issue of Greece, if the Greek government submitted a proposal they approve.
"First we must see the document of Greece and what it asks for. Only when this happens will we be able to make comments", stated Valdis Dombrovskis, Vice President of the European Commission, responsible for the Euro and the Social Dialogue, during a press conference in Brussels.
The Greek request for an extension will be considered by Daiselblum and all three institutions that oversee the current program (European Commission, European Central Bank, International Monetary Fund), before being approved by the eurozone.
"It all depends on what a "financial programme" means. There are different interpretations", noted Dombrovskis. "It will depend on the logic and essence of the wording to be used", insisted the vice president of the European Commission.
"What is clear for the Eurogroup is that the path forward is to extend the current flexibility in the assistance program so as to discuss the terms" which are associated with this, continued the vice-president of the European Commission.
"An extension is important to disburse the remaining funds of the programme and to allow more  time for negotiations between Greece and the eurozone", he reminded.