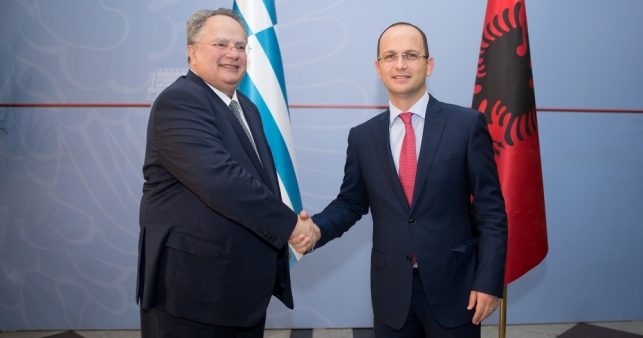 Tirana, 3 June 2016/Independent Balkan News Agency
By Edison Kurani
A few days before the Greek Foreign Minister comes back to Albania and a few days after Shpetim Idrizi was once again confirmed as head of the Party for Justice, Integration and Unity, Albanian parliament discusses the "aggravated" relations with Greece.
The Tcham issue and relations between Albania and Greece have been part of the debates of Thursday's parliamentary session. The issue was introduced for debates by the member of the governing coalition, who is also deputy speaker of parliament.
Idrizi said that Greece must admit the existence of the Tcham issue and that it must abolish the war law.
He also offered a way, which according to him, will not cause too much noise: "There is also a simple solution for Greece if it doesn't want to make too much noise or if it doesn't want to put Albanians on a privileged position: to amend the 1971 law for the repatriation of refugees, which discriminates those former Greek citizens who had no Greek nationality".
In his response, Foreign Minister, Ditmir Bushati said that efforts must still be made to close the chapter of discussions for relations between Albania and Greece in the Second World War.
Foreign Minister Bushati said that next week, when Greek Foreign Minister Kotzias visits Albania, these issues may be addressed without affecting diplomatic relations.
Mr. Idrizi also had other complaints. He demanded explanations from the minister of Education, Lindita Nikolla as to whether the Tcham issue and its place in history are being addressed in the work of the joint commissions between Albania and Greece.
Mr. Idrizi was determined in his demands: "Greece must choose: it can either talk to us or accept a synchronized internalization of this shameful page of its history. We are not asking for anything anti-historical and nothing which goes against international law rules. But we will also rank on a global level if Greece doesn't withdraw".
PDIU calls for reconciliation: "Today, on the year of the abrogation of the Treaty signed 20 years ago, let us approve a new Treaty of friendship, which includes real and quick implementation mechanisms of mutual freedoms of liberties in our countries".
***
Greek Foreign Minister, Nikolaos Kotzias is making intense efforts to secure a full agreement with Albania, preparing a package of proposals which, according to him, will give way to the path of reconciliation on a number of issues which have been accumulated before 1996 when the Treaty of Friendship was signed by Tirana and Athens.
Now, the true obstacle consists on what is widely known as the Tcham issue. A little while ago, it was discovered that Mr. Kotzias had prepared a full package of proposals which he will present to the Albanian side, but the latter issues clear signals of discontent.
Kotzias revealed that the package contains a number of issues which also includes the rights of property of Albanians in Greece and Greeks in Albania. Albanian Foreign Minister, Ditmir Bushati, gave an interview which seemed more of a message addressed to Athens: "We want the Tcham issue to be part of the package". Kotzias draft proposes "the solution of the property issues that exist on both sides of the border".
With the interview that Mr. Bushati gave last week, he gave way to further cooling of relations, which are seeing their weakest point in the past two decades.
Following Bushati's interview, Greek authorities once again made it clear that for them, there is no Tcham issue. "There is no Tcham issue and if an inexistent issue is submitted repeatedly by Albanian authorities, then this will not help bilateral relations", the Greek side warns.
The Greek Foreign Ministry also presents a history on the war and the way Athens sees the Tcham issue. "During the invasion by the Axis forces, Tchams collaborated with fascist and Nazi invaders leaving Epirus in groups upon their will, in order to follow the enemy's forces".
Mr. Kotzias' three day visit which has been confirmed that it will take place from 5 to 7 June 2016, is expected to clarify many things. This visit will discuss the package of proposals. It is not known how the sides will agree on the package, but this can be a great and final step to put an end to the "suspended" relations between the two countries. /balkaneu.com/