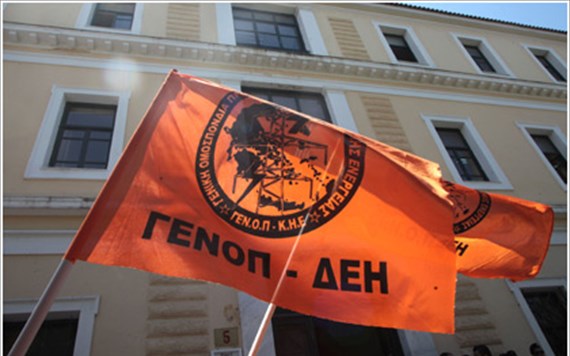 By Lefteris Yallouros – Athens
The Union of Greece's Public Power Corporation Workers, (GENOP) decided to end a strike on Sunday following a meeting of employees. Instead, they will proceed with "other forms of mobilization". A rally has been called for Tuesday, along with the Civil Servants Union (ADEDY) and the General Confederation of Workers (GSEE).
The government had ordered the Public Power Corporation (PPC) workers to go back to their posts via a civil mobilization decree which followed a decision by the country's top court which judged the strike "illegal and abusive."
Workers are gradually restoring capacity to the grid as they return to work. Brief power outages were caused last week as a result of the strike with businesses, especially in the tourist sector, warning against escalation which would have caused major damage to them and the national economy.
A nationwide blackout was averted after all; however, the government was reminded of how difficult it would be to push through troika-sponsored reforms, especially when it comes to changes in the public sector and its entities.
Main opposition SYRIZA rallied opposition parties around its request for a referendum on the privatization or a PPC spin off. Legislation to sell 30 percent of the firm to a private investor by 2015 passed in Parliament on Friday with the votes of ruling New Democracy and PASOK parties as SYRIZA could not come up with the 120 votes needed in order for Parliament to discuss the possibility of a referendum.
The main opposition party issued a statement on Saturday branding the government "authoritarian" and for ordering electricity workers back to their jobs. "It is obvious that the government's plan for a small private PPC serves specific economic interests and leads to oligopolistic situations, disregarding the true needs of Greek society" the statement reads.
Government spokeswoman Sofia Voultepsi, on the other hand, maintained the strike was being motivated by SYRIZA and that "workers realized they were being used; this is why there was such a small participation in the strike".
The government may have been successful in proving its determination to back its reform program, however, SYRIZA managed to send a strong message too as, for the first time, it appeared to form an informal alliance of the opposition (even without the backing of the Communist Party). The symbolic value of the referendum proposal could prove vital ahead of the Parliament vote of a President of the Republic which SYRIZA will certainly use to force the Prime Minister into calling an early general election.