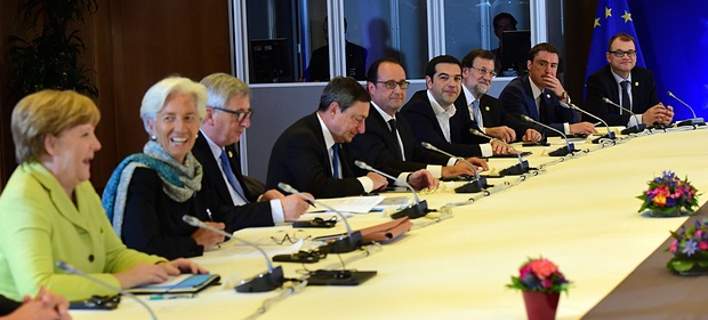 Athens, June 23, 2015/ Independent Balkan News Agency
By Zacharias Petrou
Ahead of the crucial Summit of European leaders and Eurogroup meeting on Monday, the Greek government sent the country's creditors a proposal containing reforms it is willing to implement.
The proposed measures appear to have pleased Greece's EU partners, at least as a good basis for discussion, paving the way for an agreement over the future of the country's bailout to be wrapped up later this week. A European Council meeting is scheduled for Thursday amd a Eurogroup meeting was also called for Wednesday. Should technical terms be agreed by then, the deal could be finalized and sealed.
Greek Prime Minister, Alexis Tsipras, told reporters that his government is seeking a deal to address mid-term funding issues. He said proposals have been accepted as the basis of a possible deal by its creditors and that Greece is seeking a "comprehensive" and sustainable solution that will be accompanied by a growth package.
Donald Tusk and Jean-Claude Juncker held a press conference immediately after the end of the EU leaders' summit which ended in the early hours of Tuesday.
Tusk said Greek Prime Minister Alexis Tsipras assured him that Greece is ready to implement reforms that would make a deal possible.
"I called today's summit because I wanted to inject new dynamism in negotiations that have stalled for too long….Today's Greek proposals show we have taken that step" Tusk said.
J.C. Juncker said the Greek proposals were late but very important and covered a big distance. "I am sure that we all want to conclude a deal by Wednesday" Juncker added. Capital controls were not mentioned tonight, Juncker also revealed.
German Chancellor Angela Merkel said in a seperate press conference that Greece has made progress but there is little time left and much work still must be done. We have made some concessions to Greece but the proposals of the institutions is the basis for a deal with Greece, A. Merkel added. After reaching a staff level agreement, we will examine how Greece will receive funds and what prior actions will be required, the Chancellor revealed.
Earlier, arriving in Brussels Monday morning for what turned out to be a series of marathon meetings, Prime Minister Alexis Tsipras said: "This is time for a substantial, viable solution that allows Greece to come back to growth within the eurozone with social justice."
Eurogroup chief Jeroen Dijsselbloem told a press conference after the Eurogroup meeting of Finance Ministers that Greece's proposal was indeed a "positive step in the process" and "welcome." He said the proposal appeared to be "broad and comprehensive" and that it could be a "basis to really restart the talks."
Earlier, Germany's Wolfgang Schaeuble told reporters he had not seen anything new from Greece so far and "without anything new, there is nothing for the ministers to prepare for their leaders".
The latest Greek proposals forecast increased revenues from VAT over the next 18 months. Greece has also accepted that pension must be reformed, and is planning a hike in pension contributions and an increase in health contributions from retirees. However, pension rates won't be cut.
There's also a one-off tax on company profits, for firms earning at least half a million euros. Overall, over the remainder of 2015 and 2016, Greece will seek to raise almost 8 billion euros from fiscal measures to cover its funding gap – along with bailout cash disbursed to Athens.
The measures are a long way off the anti-austerity promises Syriza made in the pre-election period 5 months ago. The government is expected to have trouble getting such harsh legislation through parliament. However, the majority of Greeks want the country to stay in the euro; it now seems certain this will not be possible without a deal with creditors.
While the crucial meetings in Brussels went ahead, for the second time in a few days, protesters poured into Athens' Syntagma Square to urge the Tsipras government not to endanger Greece's place in the eurozone, and by extension the EU.