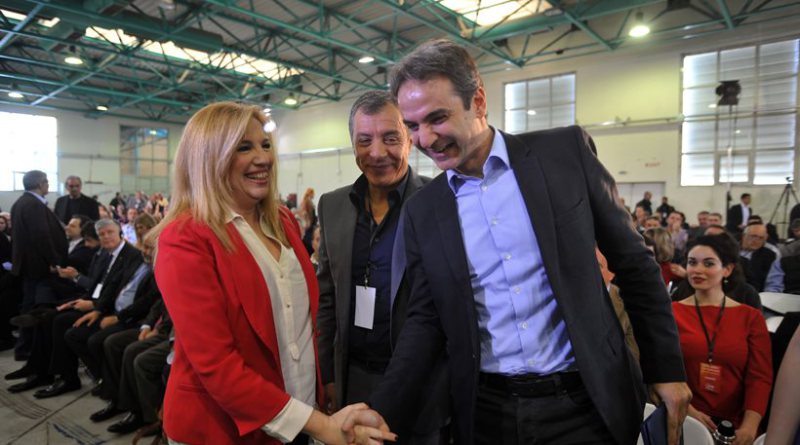 Athens, February 29, 2016/ Independent Balkan News Agency
By Zacharias Petrou
While latest opinion polls show that Syriza and Prime Minister Alexis Tsipras are trailing New Democracy and Kyriacos Mitsotakis respectively in popularity, Greek opposition parties seem to be laying the groundwork for future cooperation against the Syriza-ANEL government.
At a Congress of centrist To Potami, held over the weekend in which the Stavros Theodorakis – led party attempted to define its core set of policies and determine its political future, the leaders of main opposition New Democracy and socialist PASOK parties spoke in favor of an alliance of the pro-European Union powers.
"We are all together in the big reformist wave that has to change Greek society. We are on the same side of the table also when it comes to the European path for reforms" Mitsotakis told the Congress, hinting at a united front of the opposition against Tsipras and ANEL leader Panos Kammenos.
Socialist leader Fofi Gennimata has repeatedly urged To Potami to join the so-called democratic coalition of PASOK and leftist DIMAR.
On his part, Stavros Theodorakis said he was prepared to discuss the creation of a new centrist party while pointing out that Greece needs a reformist govenrment with the "broadest possible cooperation" that would represent "at least 51 percent of society". Looking forward, Theodorakis proposed the creation of a "council of the political center" to discuss ways of uniting these forces.
At the congress, Mitsotakis, Gennimata and To Potami leader Stavros Theodorakis agreed they would form a common position in the upcoming meeting of political party leaders to discuss the refugee crisis.
The cooperation of opposition parties could prove highly popular amongst voters, analysts point out. According to the findings of an opinion poll by ProRata, published in Efimerida ton Syntakton newspaper over the weekend, six in ten Greeks, including a third of Syriza supporters, would like to see a change in the parties participating in the government.
Just over half of respondents said they would prefer an all-party government while the second most popular choice (with 9 percent) was a government involving Syriza, New Democracy, PASOK and To Potami.
A seperate poll by Metron Analysis for Parapolitika newspaper shows Kyriakos Mitsotakis is considered more suitable to be Prime Minister by 22 pct, compared to Alexis Tsipras who stands at 19 pct.
Approximately 85 pct of respondents said they believe the country is going in the wrong direction, and 63 pct say that they are in a worse financial position than a year ago.