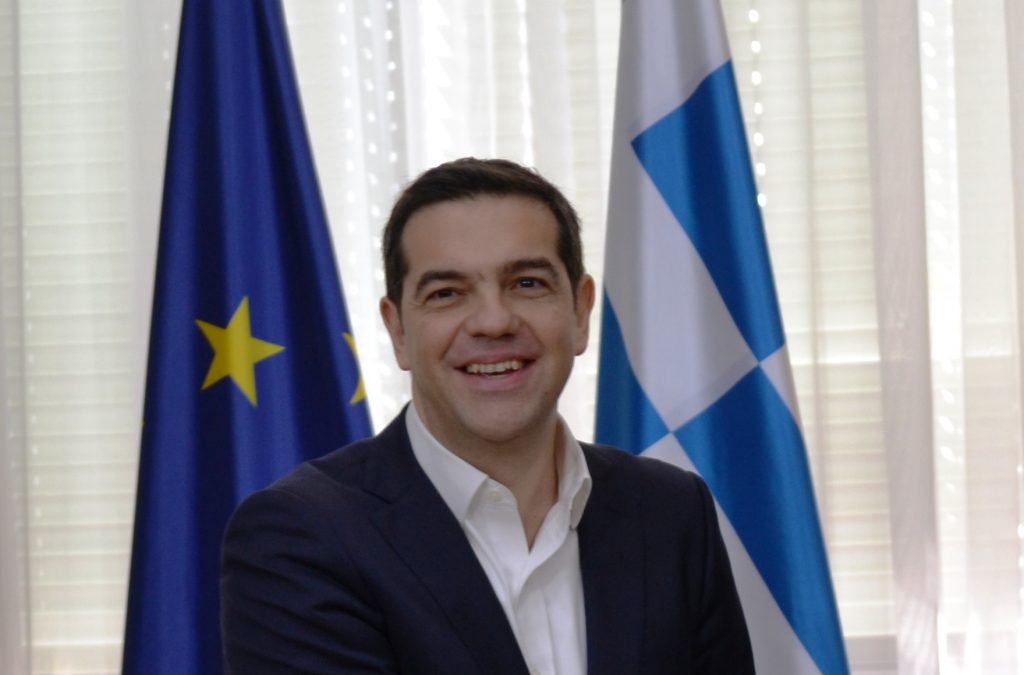 The Greek Prime Minister Alexis Tsipras will visit Kiev on 8 and 9 February, after accepting an invitation by the Ukrainian President Petro Poroshenko.
Alexis Tsipras, continuing on a multidimensional and active foreign policy in the Black Sea area will be found in the Ukrainian capital where he will meet with the country's President Petro Poroshenko, Prime Minister Volodymyr Groysman, the First Vice Prime Minister of Economic Development and Trade Stepan Kubiv, the Chairman of the Verkhovna Rada Andriy Parubiy and Patriarch Filaret.
The Greek Foreign Minister Nikos Kotzias, Deputy Foreign Minister Terence Quick, Giorgos Tsipras, the Foreign Ministry's Secretary General for International Economic Relations, other government officials as well as businessmen that will participate in the Greek-Ukrainian Forum organized in Kiev, will accompany Alexis Tsipras.
The crisis in Ukraine, regional developments, Ukraine's European course, economic cooperation and protection of the strong Greek community if whose most membet live in areas under difficult conditions because of a dispute with Russia over Crimea.
According to IBNA information, the Prime Minister will convey messages from both the Russian side and the EU side to the leadership of Ukraine, aiming to assist in resolving the Ukrainian crisis through dialogue and the UN resolutions to end hostilities between the two countries.
Ukrainian crisis and Greece
Greece is monitoring the developments in Ukraine with concern and has consistently come out in favour of the country's independence and the preservation of the country's sovereignty and territorial integrity.
Greece support that a solution can be only of a political, rather than a military, nature and must be achieved soon, so that the crisis does not take the form of a "frozen conflict". In this context, immediate implementation of and respect for the Minsk agreement is a top priority.
Greece is implementing the measures agreed upon within NATO and the EU against Russia, concurrently and consistently supporting the need to keep open the channels of communication with Moscow, with the aim of avoiding the creation of new dividing lines in Europe.
Naturally, the Greek side's top priority remains the protection of the Greek Community of Ukraine, which is directly and indirectly suffering the repercussions of the crisis.
Greece follows the developments in Ukraine with concern and has argued consistently in favour of independence and the preservation of sovereignty and territorial integrity.
Greece supports that the only solution would be of a political nature and not a military one and should be done soon, so the crisis does not take the form of a "frozen conflict".
In the same context, Greece has offered its good offices and expertise, particularly in public sector restructuring, Justice and the Rule of Law. Furthermore, recognizing the need for sustainability of the Ukrainian economy, Greece supports all efforts to support and provide substantial assistance to the country, both through NATO, OSCE and the International Red Cross, as well as bilaterally.
Greece is implementing the measures agreed within NATO and the EU against Russia for its behaviour towards Ukraine, arguing at the same time in favour for maintaining channels of communication with Moscow open in order to avoid creating new dividing lines in Europe./ΙΒΝΑ
Photo: Spiros Sideris/IBNA