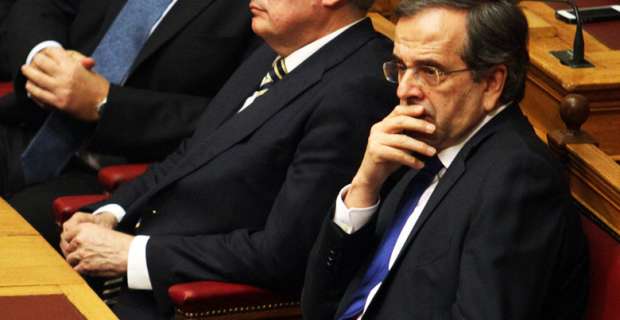 Athens, December 24, 2014/ Independent Balkan News Agency
By Lefteris Yallouros
Greek parliament failed to elect a new president of the Republic Tuesday in a second round of voting where Stavros Dimas, the only candidate in the race got 168, thirty-two short of the threshold for election.
The decisive third round of voting will take place December 29th where 180 votes will be needed for the government's candidate to be elected president. That means the coalition must persuade 12 MPs to vote for Dimas over the next five days.
If a president is not elected a snap election will have to be held by early February, perhaps even sooner.
Eight more independent MPs backed Dimas than in the first ballot but that still leaves the government needing support from Democratic Left (DIMAR) and Independent Greeks lawmakers. In the first round of voting, 160 MPs had voted in favour of Dimas.
"The third ballot will not be one where they can just vote present," Samaras stated immediately after the vote. "There will be names and surnames. Each MP will have to face up to Greeks' concerns and the country's interests" the premier added in an apparent attempt to persuade deputies to back Dimas in order for the country to avoid an election.
Polls show most Greeks – almost 6 in 10 – are against an early general election. However, main opposition SYRIZA leads Samaras's conservatives.
SYRIZA leader Alexis Tsipras said after the vote that "neither parliament nor the people will give Mr Samaras a mandate to continue with memorandums." "In the new year, the country will turn a page, with democracy, with a strong popular mandate for real negotiation" Tsipras added.
Avoiding a snap election will be a difficult task for the government as it will have to entail MPs from smaller parties such as the Democratic Left (DIMAR) or right-wing Independent Greeks (ANEL) voting against official party line. Both the Democratic Left and Independent Greeks reiterated Tuesday they will not vote for Dimas in the final round.
Coaliation partners Samaras and Venizelos are confident they could persuade deputies from DIMAR and ANEL to vote in favor of Dimas especially since both parties appear unlikely to be in the next parliament. According to latest polls both parties are losing popularity fast while also failing to impose discipline on their members. Minutes before Tuesday's vote Democratic Left MP Nicky Founda announced she was leaving the party to sit as an independent.
Rumors emerged in the Greek press late Tuesday that the PM could take further initiative – such as setting a specific early election date – in order for lawmakers to switch their support at the last minute.
Switching to a left-wing candidate in the last election round has been ruled out entirely.