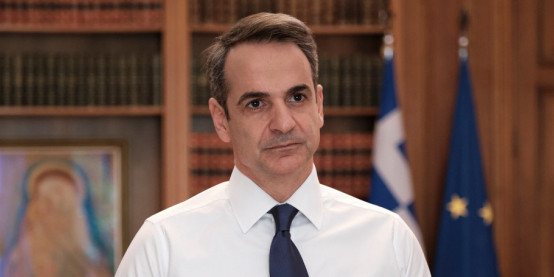 Prime Minister Kyriacos Mitsotakis addressed a televised message to the Greek people on Wednesday to present his government's plan for the revival of the Greek economy in coming months.
Mitsotakis said the government has successfully managed the health crisis to date and will now turn its focus on economic recovery, while more support is expected to be offered in the autumn where necessary.
The Prime Minister thanked the Greek people for their support and responsible stance during the first phase of the pandemic. Now, the PM stressed, Greece stands before a "bridge" that it must cross in order to make up the lost ground in the economy.
"The danger for Greece is greater than other countries because the pandemic interrupted our robust economic recovery" he said, adding, however, that he is optimistic Greece will manage to rebound strongly in 2021, starting now.
The government's package of economic aid announced Wednesday is estimated to be worth 24 billion euros in total.
The recovery plan is based on four pillars, namely, boosting employment; cutting a series of taxes; providing liquidity to business; and supporting a restart of the Tourism industry.
The measures announced by Mitsotakis include an extension to July of an 800 euro compensation scheme for businesses and individuals affected by the pandemic.
Moreover, businesses whose turnover was affected by the health crisis will be allowed to reduce the working hours of their employees and the State will partially cover their wages and social security contributions. Unemployment benefits will also be extended to seasonal workers.
In terms of tax reductions, the PM said VAT will be reduced for certain products (coffee, non-alcoholic drinks) and transport services. Payment of tax in advance will also be reduced. Rent-reducing schemes will be extended, while landlords will be compensated via tax relief.
On the liquidity front, the government will continue to provide guarantees to businesses, allowing them to receive subsidized loans, while the second phase of a returnable advance payment scheme will commence in coming days, funded by an additional 1 billion euros.
Business loan deferrals will also be extended for businesses in specific sectors of the economy.
Finally, as part of a program to Restart Tourism, the PM said the tourism period will officially begin 15 June, while international flights to and from many destinations will recommence 1 July.
Protection of jobs in this sector will be a government priority, the PM said./ibna