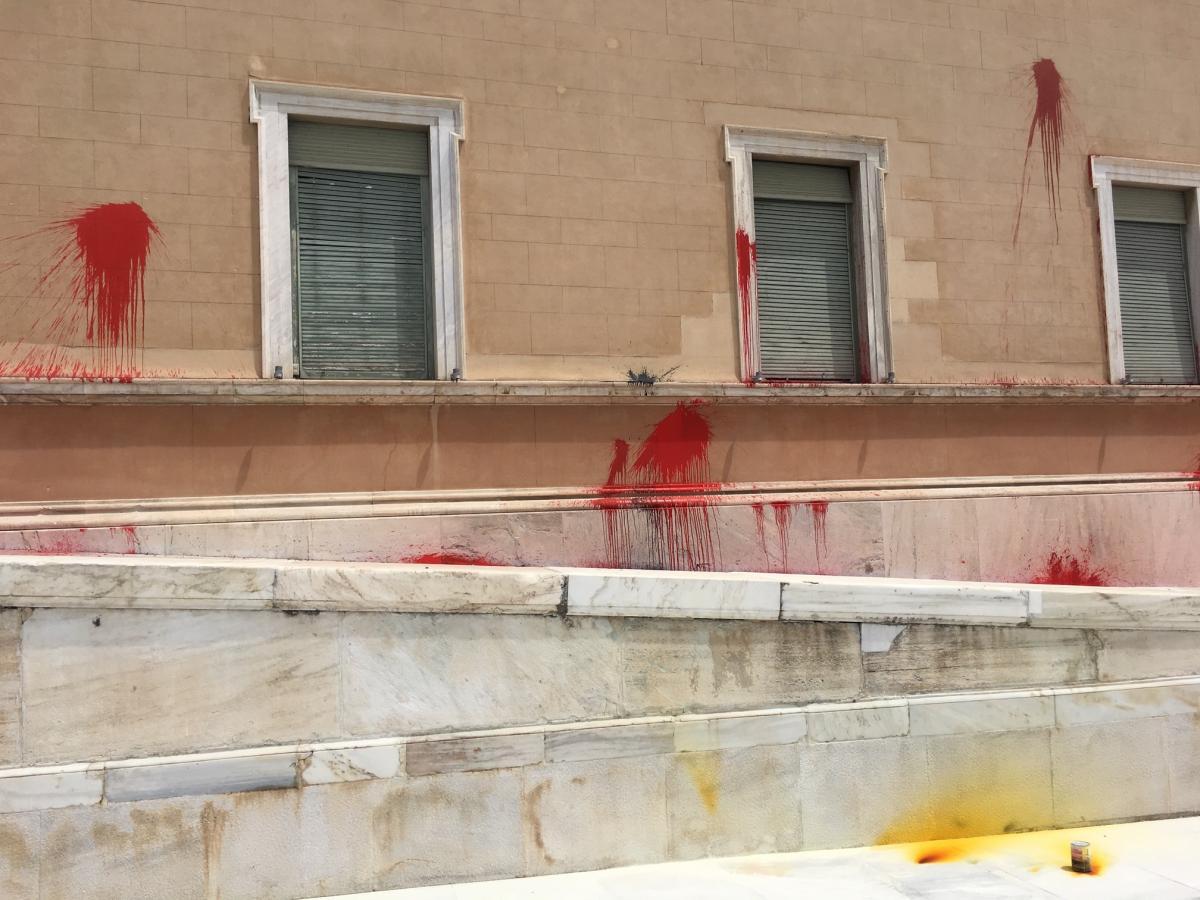 An attack with paints and smoke canisters outside the Greek Parliament took place at noon on Tuesday from members of the anti-authoritarian group "Rubicon". A group of 30 people marched from the Unknown Soldier's monument, throwing red paint on the walls of the parliament, in solidarity with the prisoner Dimitris Koufontinas, imprisoned due to his involvement in the terrorist organization "November 17", who is on hunger strike following the rejection of his request for a temporary leave from prison. One person was arrested, while an investigation is being carried out by the Authorities, as the rest escaped through the crowd at Syntagma Square.
House Speaker Nikos Voutsis spoke of an "unacceptable and extremely undemocratic" action that does not offer anything to the social struggles." "Especially during the pre-election period, these actions exacerbate the atmosphere completely independently from the pretexts or the arguments that accompany them," he noted. "Such actions are deeply undemocratic and have nothing to do with social struggles," the prime minister's press office commented, while SYRIZA speaks of an anti-democratic act of vandalism "which finds against it the entire Left and the democratic world."
ND: The straw that broke the camel's back
The spokesman for New Democracy spoke of "the last straw", as ND sets very high the issues of security and the need for enhanced police action and presence in Athens. "It is the absolute humiliation of a state that has elections in 4 days and cannot protect even the building that symbolizes the Hellenic Republic," he noted, while by linking the attack to the May 26 election, the main opposition noted that "the perpetrators of today's shame, let them know from now that this unprecedented lawlessness will end very soon, with the vote of the Greek people."
The "selfie" of the Far-Right
Condemnation of this act was expressed by all the democratic parties in parliament. Heads were turned by the online post of the MPs of the neo-Nazi "Golden Dawn", who posted a "selfie" of themselves in front of the paint-stained walls of the Parliament, which they characterize as " SYRIZA's brothel".
It is noted that this group has vandalised a series of state buildings, party offices, businesses and embassies. Recently, as a result of the prisoner's hunger strike, who has a life sentence due to acts of terrorism, these actions have intensified. Meanwhile, in the coming days the decision of the judiciary is expected on whether the prisoner's request will be granted or not./ibna