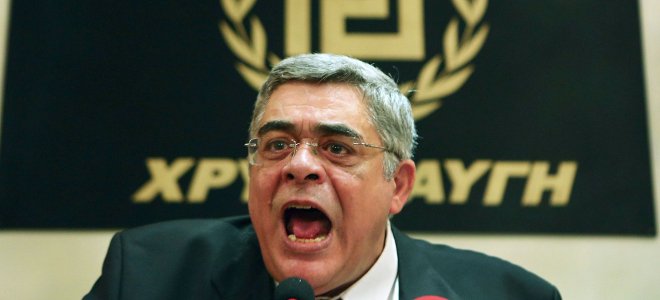 By Lefteris Yallouros – Athens
Greek police arrested Neo-nazi Golden Dawn party General Secretary Nikos Michaloliakos along with party spokesman Ilias Kasidiaris and three other MP's in the early morning hours of Saturday.
The anti-terrorist squad also arrested the general secretary of Golden Dawn's Nikea chapter Nikos Patelis, as well as nine other unnamed party members while a number of other warrants are believed to have been issued too.
The arrested officials will appear in court over the weekend on charges of forming a criminal organization, police said. Reports suggest police found weapons at the homes of Michaloliakos and other MP's.
These latest developments were sparked by the arrest of George Roupakias on September 18th, a supporter of Golden Dawn who admitted to stabbing anti-fascism activist Pavlos Fyssas to death.
On Tuesday, Greek police also arrested one of their own colleagues who reportedly worked as a bodyguard for the party.
It is interesting to see how the neo – Nazi party will react as party leader Michaloliakos said last week "we will exhaust any means within our legal constitutional rights to defend our political honour. If the country enters a cycle of instability, it is those who demonize Golden Dawn who will be responsible."
This is interpreted as an intent to have all the party MP's resign their posts in order to cause political instability as by-elections will have to be held in 15 regions nationwide.
Golden Dawn expressed outrage at the arrests in a text message to journalists. "We call upon everyone to support our moral and just struggle against the corrupt system! Everyone come to our offices!," it said.
Prime Minister Antonis Samaras said in an interview with "Axia" newspaper published Saturday: "(Golden Dawn) is a neo-Nazi party. Our democracy has the weapons to crush such phenomena. We will crush the illegal actions of these "assault battalions".
Support for Golden Dawn is waning, recent polls show. A poll conducted by ALCO sees the party drop from 10.8 pct last June to 6.7 pct in popularity while 68 pct says Golden Dawn is involved in the murder of Pavlos Fyssas.