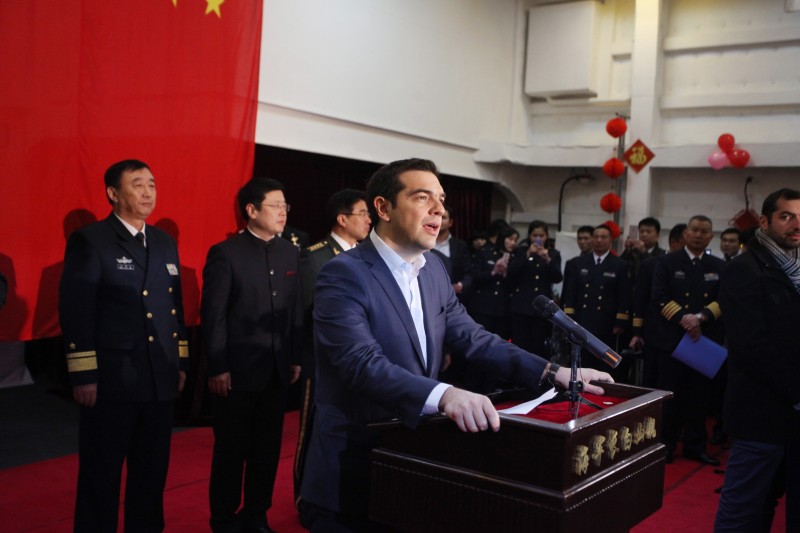 Athens, February 20, 2015/ Independent Balkan News Agency
By Lefteris Yallouros
Greek Prime Minister Alexis Tsipras said on Thursday that he believed Greece and the port of Piraeus in particular could be a significant commercial gateway for China into Europe.
Speaking aboard a Chinese warship visiting the Greek port of Piraeus, Tsipras welcomed China's investments in Greece, putting worries at rest that the new government will be hostile to foreign investors looking for opportunities in Greece.
China's COSCO manages part of Piraeus docks and has made significant investments but the government of Tsipras, a radical left-winger, has halted privatization of the port which had been agreed with the country's EU/IMF creditors.
"We give special importance to the existing Chinese investments in Greece including the important activities of COSCO at Piraeus Port," he said while visiting the warship. "We will seek ways for the peoples of Greece and China to enhance cooperation" Tsipras added.
Beijing is closely following political developments in Greece, as Chinese companies were in talks with the previous government in order to take part in several privatization projects, including stakes in large ports and the national railway.
The new Greek government however halted the sale of its two biggest ports, Piraeus and Thessaloniki. Under a privatization scheme last year, COSCO had been shortlisted, along with four other suitors, as a potential buyer of a stake of 67 percent in the Piraeus port. The port would become a key link in the "Silk Road" trading route to Europe that China is developing.
The privation of the ports and other companies, however, have not been blocked indefinitely as Greece has acted unilaterally without consulting its international creditors before scrapping such an important commitment of its bailout deal which is currently being re-examined at Eurozone level.
China ranked as Greece's ninth biggest trading partner in 2013, according to data compiled by Bloomberg. Chinese Premier Li Keqiang recently invited Alexis Tsipras to visit China.