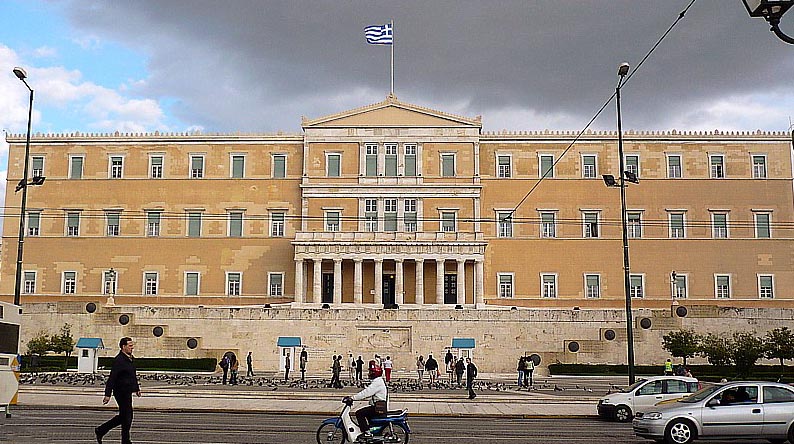 By Lefteris Yallouros – Athens
Political uncertainty in Greece is reaching boiling – point.
Visiting outgoing President of the Republic, Karolos Papoulias on Monday, SYRIZA leader Alexis Tsipras requested a Council of political party leaders is called in order to agree a date for snap elections and so that there can also be a possible consensus for the choice of the next President of the Republic.
Main opposition leader Tsipras launched a scathing attack on Prime Minister Antonis Samaras and his policies and pointed out that the country needs a powerful administration with a clear mandate coming out of fresh elections.
The Greek premier, who also met with Papoulias on Monday said "Mr Tsipras once again sought early elections, precisely what the Greek people do not want and what international markets fear."
"I had the chance to repeat that there will be no early elections," Samaras added while appearing certain that MPs would elect a president when Papoulias's term ends in March. "We have come far, way too far, to throw everything away," Samaras said.
As the two leaders publicly exchanged their views, Greek bond yields soared 11 basis points to 8.22 pct on Monday after a senior European Union official said Athens was "highly unlikely" to end its bailout program without some new form of assistance.
"A completely clean exit is highly unlikely," the official told reporters. "Whatever options we may be adopting, it will be a contractual relationship between the euro area institutions and the Greek authorities," said the high-ranking EU official.
The issue is set to be discussed at a Eurogroup meeting on Thursday, however, final decisions are not expected before troika officials complete their review of the country's adjustment program which isn't expected before another Eurogroup summit on December 8.
As the political thermometer in Athens makes upward strides the government is keen to avoid a snap election and will attempt to do so by securing the necessary 180 votes in parliament for the election of a new President of the Republic early 2015. Meanwhile, the Samaras administration will attempt to free the country from outside control and conclude a difficult bargaining process with the troika.
Latest opinion polls show that Greeks are not convinced an early general election is needed. However, SYRIZA maintains a lead of up to 5.3 pct over New Democracy is some polls.