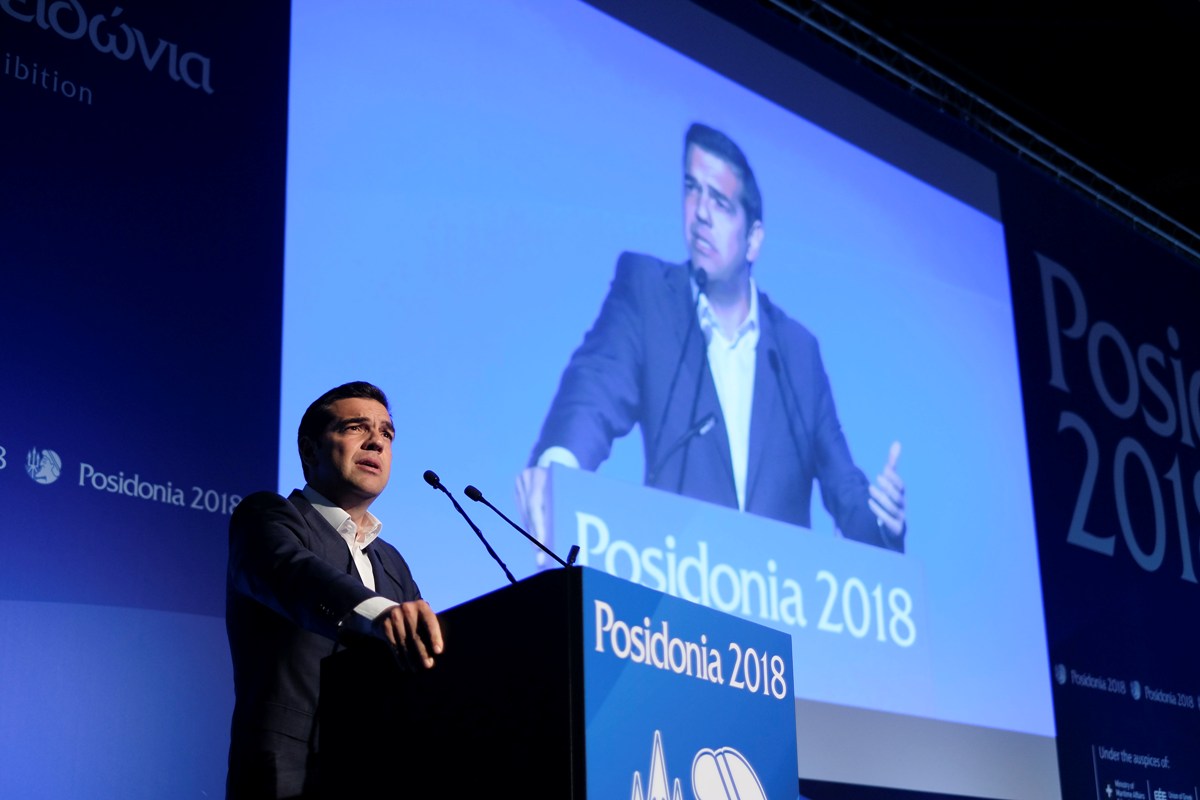 Greek Prime Minister Alexis Tsipras has praised Greece's shipowners for their contribution to the country's economy.
In his speech at the inauguration of the biennial Posidonia 2018 maritime exhibition in Athens on Monday evening, the Greek premier went on to urge the country's shipowners to continue to support efforts to boost the economy which is on its way out of a protracted crisis.
Posidonia 2018 – the world's most prestigious shipping event and one of the longest standing international maritime trade shows – will be held from June 4 – 8 at the Athens Metropolitan Expo.
"Greek shipping owns the largest international commercial fleet operating 20% of the global and 50% of the European capacity. This economic activity is responsible for a significant portion of the gross domestic product of Greece", Tsipras said.
The premier added: "The Greek government is investing in infrastructure upgrades required by our shipping industry, while promoting initiatives which support the sector's expansion in Greece as well as abroad. Our policy regarding the Greek ports, through selected partners who invest in their strategic growth – such is the case with Piraeus' establishment as an international maritime hub, with the required structure and infrastructure – can further contribute to the country's economic development and its position on the world map."
In 2017, receipts from Greek shipping activity exceeded 9 billion euros, up 20 percent year on year compared to 2016.
On his part, the President of the Union of Greek Shipowners, Theodore Veniamis, spoke of a "sincere desire of Greek shipowners to maintain their close ties with their homeland".
Veniamis went on to express his "strong belief that the recognition of Greek shipping as a national asset, beyond political parties, with significant economic and strategic benefits for our country, is a true sign of political maturity and responsibility on behalf of our nation and the Greek State".
Prime Minister Tsipras also touched upon developments in the economy as Greece looks forward to concluding its third bailout program since 2010, in August in 2018. Tsipras warned against a return to the "pathogenesis of the past which led us into the crisis". He also heralded "gradual tax breaks" as the economy continues to recover.
"We proceeded with reforms, but it was not easy to implement them; from a deficit-plagued country we are now among the first, and with a surplus. We regained the trust of our partners, and this is a passport towards an exit from the programs, and a guarantee for gradual tax breaks".
Elaborating on the government's agenda for the coming weeks, the premier said Greece intends to conclude the final review of the country's bailout in time for the June 21 Eurogroup meeting. After the successful completion of the fourth review and a debt deal for Greece, the country will very soon be able to stand on its feet without precautionary credit lines, he added./IBNA