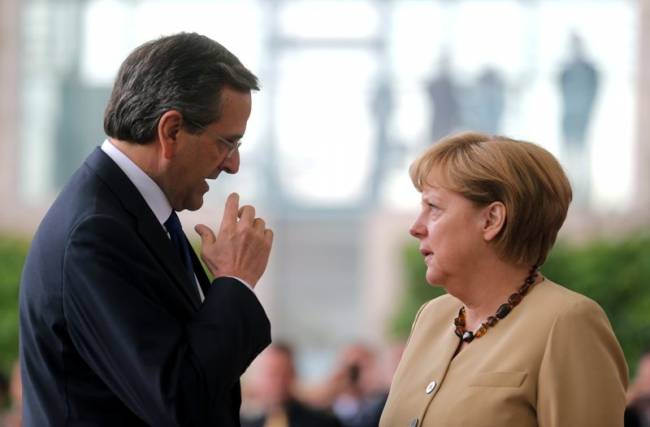 By Lefteris Yallouros – Athens
Greek Prime Minister Antonis Samaras heads to Berlin on Tuesday for talks with German Chancellor Angela Merkel.
The visit is crucial as Samaras will seek to fend off further reform in the national insurance system and labor relations for which the country's troika of lenders is considered certain to push for as part of an evaluation of progress made in the Greek adjustment program.
The Greek premier also hopes to secure a message of support of his government's efforts to bring growth back to Greece, ahead of the troika's return to Athens later this month.
Ahead of a Presidential election to be held in Parliament early 2015, Samaras would like to close a difficult negotiation with the troika by the end of the year; the meeting with Angela Merkel may prove pivotal in avoiding a third bailout-package at the end of the current which the Greek government wants to exit along with the strict memorandum it came with.
The German Chancellery has said that "the debt issue will not be decided bilaterally and not be discussed on Tuesday". However, it is understood that Samaras will want to tie in the likely granting of debt relief with a "guarantee" of some sort from Merkel and other EU partners that Greece could return to financial markets thus disengaging from the troika.
Main – opposition SYRIZA thinks the effort made by the PM will prove futile. A party statement said "Mr Samaras is turning to Ms Merkel as a beggar seeking her lenience. The only negotiation card Mr Samaras has with Ms Merkel is the prospect of a Syriza government".
Criticism came as reports in Athens emerged ahead of the Berlin meeting suggesting Samaras will be raising the argument that SYRIZA is already ahead in the polls in order to convey that any new pressure on the coalition government to adopt fresh austerity measures may bring about its downfall.
Furthermore, the government is looking to reduce taxes and increase installments of overdue debt repayment for Greeks, as promised by the PM earlier this month.