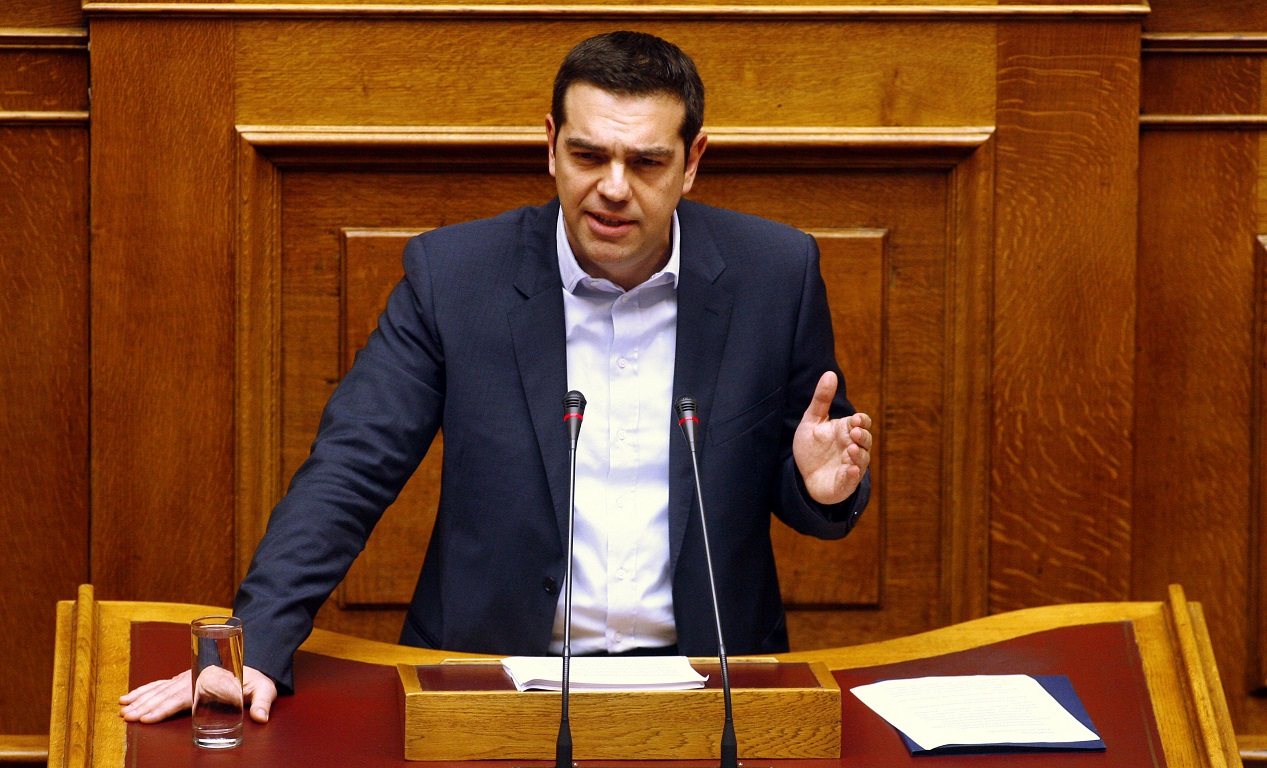 Athens, February 9, 2015/ Independent Balkan News Agency
By Lefteris Yallouros
Greek prime minister, Alexis Tsipras, presented his anti-austerity government program Sunday night in Parliament. His policy speech delivered measures implementing pre-election pledges that will almost certainly trigger a reaction from Greece's lenders.
Alexis Tsipras insisted he will seek a bridge loan rather than an extension of the country's bailout and set of austerity & reform measures that accompany the rescue loans. The premier said his government did not have the right to prolong the five-year bailout deal adding that it is his duty "not to disappoint" those who had voted him into power.
"The first priority of this government is tackling the big wounds of the bailout; the humanitarian crisis, just as we promised to do before the elections," Tsipras said. "The bailout failed. The new government is not justified in asking for an extension (…) an extension would be a mistake and a catastrophe. We want a new deal, a bridge program that would give us the fiscal space that a sincere negotiation requires," he added.
A set of measures announced will not be greeted with acceptance by the troika of Greece's lenders. Amongst others, Tsipras announced he will replace a unified property tax (ENFIA) with a new tax on large property and increase the tax-free income threshold to 12,000 euros from 5,000 euros. Tsipras also promised reinstatement of public sector employees "fired illegally".
Furthermore, collective wage bargaining will be restored while the minimum wage will return to 751 euros a month by 2016. A 13th pension for retirees earning less than 700 euros a month will also be reinstated. The premier also pledged to reopen ERT, the state broadcaster that was abruptly shut down in June 2013 by the former government.
Mr Tsipras also announced a number of measures aimed at cutting costs or raising revenue such as a special portfolio to oversee fight against corruption and tax evasion; a pension fund using revenues from natural resources; and cutting ministry cars and government airplanes.
Finally, the Greek PM also repeated demands that Germany pay reparations for World War Two and repay a loan that the Nazis forced the Bank of Greece to pay when they occupied Greece. Greece has "a moral obligation to our people, to history, to all European peoples who fought and gave their blood against Nazism," he said.
On Wednesday, the Eurogroup of finance ministers will hold an emergency meeting on the Greek crisis. Greek Finance minister Yanis Varoufakis said on Sunday he expects to have a difficult time at the meeting. On Thursday, a full summit in Brussels will be attended by both Tsipras and Angela Merkel.
Meanwhile, main opposition party New Democracy said in an announcement late Sunday night that the party supports the national effort for a beneficial agreement. However, the party added that it had serious doubts over the chances of negotiations ending in success following the policy speech delivered by A. Tsipras. New Democracy added that "Mr Tsipras acknowledged for the first time that primary surpluses are a prerequisite for sovereignty while forgetting that they were achieved by the previous government and Syriza opposed them strongly".