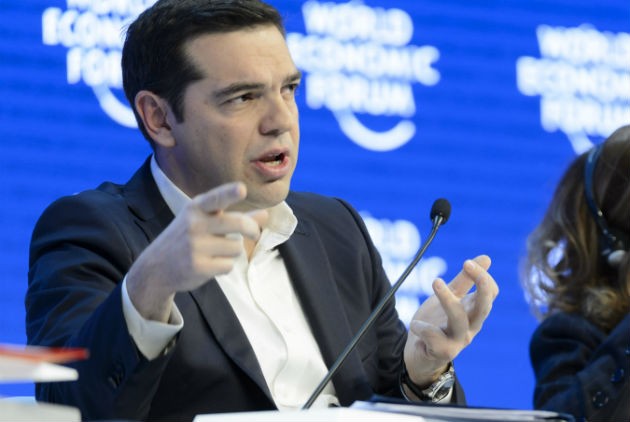 Davos, January 21, 2016/ Independent Balkan News Agency
By Zacharias Petrou
Greek Prime Minister Alexis Tsipras sat on a the World Economic Forum panel on "The Future of Europe" along with French Prime Minister, Manuel Valls, Dutch Prime Minister, Mark Rutte, German Finance Minister, Wolfgang Schäuble and the chairwoman of Eni SpA, Emma Marcegaglia.
The Greek premier commented on dealing with the financial crisis in Greece and Europe and the refugee crisis.
Alexis Tsipras underlined the need for Greece's adjustment program to be implemented without delay, ensuring political stability while stressing that although not everyone agrees on the need for the International Monetary Fund to participate in dealing with Europe's financial crisis, he hoped that Greece's program will proceed smoothly, without delay.
The Greek PM appeared certain that the Greek government will keep implementing reforms as agreed with its partners but that pensions will not be cut further, saying that his government has reached agreement with stakeholders in Greece to share the burden of the bailout program fairly.
The premier also highlighted that Greece has made great efforts to reform its economy in recent years, through an unprecedented downturn. "We lost 25% of our GDP, and unemployment skyrocketed […]Greece needs considerable structural reforms. We must all understand that next to balanced budget, we also have to have growth" Tsipras said.
However, he was also keen to request that Greece is given time and room to address its financial troubles. "We need a co-ordinated growth strategy, and Europe must help to diminish the inequalities between North and South. We need more Europe, and show more solidarity as well" he said.
Touching on the refugee crisis, the Greek PM argued that all European countries must share the burden as Greece cannot deal with the issue alone. "A reliable mechanism is required for the relocation or refugees from Greek islands to all EU member-states. At the same time there must be a mechanism for refugees to return home from Greek islands" he said.
The refugee crisis was the only issue Tsipras's view mas aligned with that of German Finance Minister Wolfgang Schaeuble who agreed that a "fortress-Europe" should not be allowed to develop. On the economic front, however, the German minister took the opportunity to demand Greece keeps reforming and respects EU rules.
Wolfgang Schaeuble said that "we have to help every European country that can't solve its own problems. We have done that and will continue to do so". However, according to the German minister the problems have to be analyzed with respect to their genesis and "agreements must be respected in order for solidarity to continue to be shown".
"If we want to make Europe stronger we should implement what we agreed to implement; we could say it's the implementation stupid" W. Schaeuble said, paraphrasing a famous quote.
The discussion in Davos between Tsipras and Schaeuble came after the Wall Street Journal revealed in an article earlier this week that the German Finance Minister wants to start a new debate about a "Grexit" in 2016 and could use the refugee crisis as an excuse.
Alexis Tsipras indirectly replied to the latest speculation about a possible Greek exit from the Eurozone by saying that It is not the time to talk about "Grexit" or other kind of "exits". "We have to increase solidarity and find common solutions to shared problems […] going back to the founding principles of Europe" the Greek premier argued.