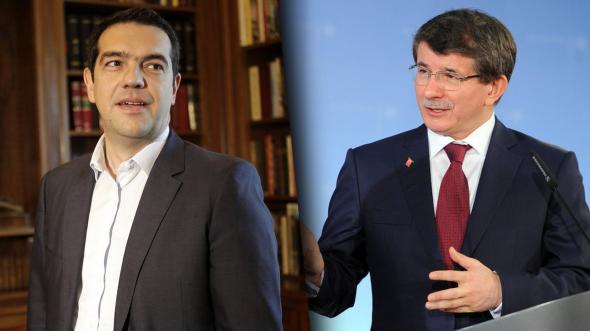 Athens, November 13, 2015/Independent Balkan News Agency
Prime Minister Alexis Tsipras visited today the Ministry of Foreign Affairs in Athens for an informal working session with diplomatic staff, in preparation ahead of his trip to Turkey next week.
Tsipras will meet informally with Turkish Prime Minister Ahmet Davutoglu on Tuesday 17th, in Istanbul, and the following day they will both participate in the formal discussion regarding mainly the refugee crisis to be held in Ankara.
"It is important for us to be well informed and well prepared for these discussions", said Tsipras before engaging in the briefing session with Foreign Minister Kotzias and other diplomatic officials.
It has not yet been confirmed that there will also be a meeting in Ankara with President Erdogan.
Although the refugee crisis will be the "official issue" on the agenda, it is also known in Athens from diplomatic sources from both sides, that "informative discussions", as they are referred to, will also take place on the ongoing peace talks in Cyprus, and on the Greek-Turkish relations in general.
The Cyprus News Agency (CNA) has learnt that Prime Minister Alexis Tsipras met with President Nicos Anastasiades, during the recent EU summit in Malta on the refugee crisis, and was briefed by the Cypriot President about the current status of the intercommunal talks.
Sources in Athens suggest that Tsipras will refer to the Cyprus problem during his visit in Turkey.
Speaking about the refugee issue, the Greek Prime Minister said that he is going to Ankara "to use the current momentum, and achieve what is best for the country".
It is estimated that more than 600.000 refugees have entered Greece from Turkey in 2015. According to Frontex, over 540,000 migrants and refugees entered Europe through the Greek islands between January 1, 2015 and October 1, 2015.
Greece has insisted that this inflow from Turkey, which is carried out by  "human traffickers who make a lot of money by stacking people onto unsafe plastic boats, sending many of them to certain death",  must stop, and that the EU "should protect the country's borders, which are also borders of Europe".
Furthermore, and according to sources in Athens this is also expected to be discussed in Ankara. Prime Minister Tsipras will insist on Greece's objection to joint patrols with Turkey in the Aegean.
Greece and Turkey have been involved in heated discussions over the years concerning territorial issues in the sea which separates the two countries.
Tsipras said today that foreign policy plays an important role in the  country's "negotiation dynamic, which is endless, because we are constantly negotiating".
During his one day stop in Istanbul o Tuesday, the Prime Minister will also be accepted by the Ecumenical Patriarch of Constantinople, Bartholomew.
Source: CNA