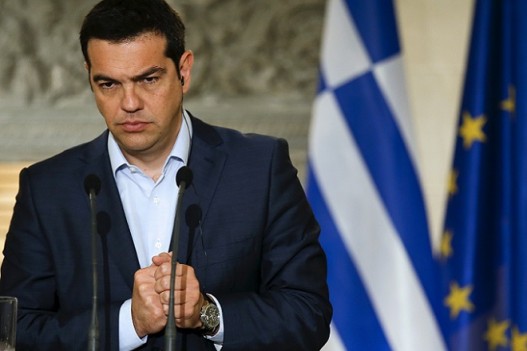 Athens, July 2, 2015/ Independent Balkan News Agency
By Zacharias Petrou
In a televised address to the nation on Wednesday, Greek Prime Minister Alexis Tsipras attacked Greece's European partners, accusing them of wanting to blackmail his government and the Greek people.
Tsipras defended his decision to put the reform program proposed by Greece's creditors to a referendum. He argued that the capital controls and bank holidays imposed on Greece immediately after he called a referendum are signs that creditors want to oust his government and force the Greek people to accept austerity measures including pension and wage cuts.
The PM's attack made no mention of the fact that it was his decision to abandon negotiations in the first place and subsequently allow Greece's IMF debt to fall into arrears and the country's bailout program to expire. In fact, the Greek premier argued that Greece is still at the negotiation table and will get a better deal if the "No" vote prevails in the July 5 referendum.
The euro zone countries have made clear that voting "No" would amount to dropping out of the euro, something most Greeks do not want. However, according to Tsipras, that is not the intention of his government and the "No" vote will certainly not lead to the so called "Grexit".
Tsipras has sent the euro zone bailout fund a new proposal (on June 30) requesting an extension to the bailout program (which expired on Tuesday), as well as a restructuring of Athens' debt. The euro zone immediately rejected the plan.
Greeks will now be called to vote for the future of their economy after only a few days of debate over what is at stake, what the result of the referendum will to and what the actual question asked refers to since the creditors' proposals have been taken off the table.
On Wednesday the Council of Europe said Greece's referendum would fall short of international standards that recommend that a referendum be held with at least two weeks' notice to allow sufficient time for discussion, with a clear question put to the people and with international observers monitoring the vote.
The Council of State will rule on Friday if the referendum called for Sunday will be held or not, after two citizens filed complaints with the country's top court asking for the vote to be cancelled on the grounds of it being unconstitutional and illegal.