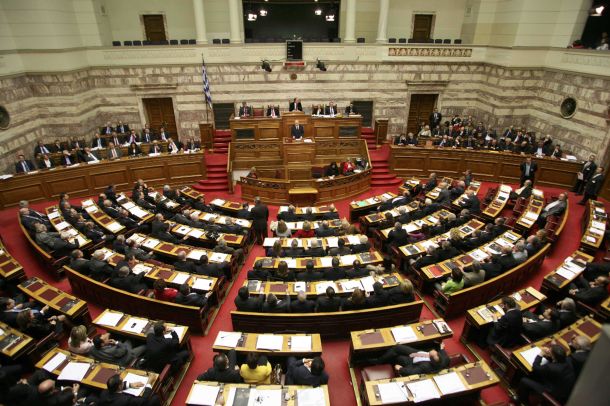 Athens, October 13, 2015/Independent Balkan News Agency
By Spiros Sideris
The new multi-bill with the prerequisite measures has been tabled in the Greek House and is expected to be voted on Friday. The enactment of the bill setting is a prerequisite for releasing a dose of approximately EUR 2 billion. Euro by partners and creditors under the new financial support agreement signed by Greece.
On Tuesday morning at 9.30 will convene in full composition the Conference of Presidents and in the afternoon will be convened in a meeting the committees of Finance, Social Affairs and Production and Trade, regarding the multi-bill. For Wednesday has been set the hearing of the social actors, while after three meetings of the Committees, the Report of Committees will be tabled on Wednesday night.
On Thursday morning will take place the Conference of Presidents and will decide to begin the discussion on the multi-bill in plenary at noon Thursday, which will last until the evening and will resume Friday (from morning to night) when the bill will be voted on.
As informed the President of Parliament, Nikos Voutsis, "we have no pressure from outside, we could go more days. What they wanted is for the bill to be tabled".
On Thursday, October 22, will begin the process of parliamentary scrutiny and the parliamentary committees will work simultaneously with the plenary – apart of course from the Committee, which bill is being discussed in the plenary.
What's more, the "hour of the prime minister" will be activated.
At 154 +1 the parliamentary power of the government
At 154 +1 MPs seems to be the parliamentary power coalition decreases – just one month following the parliamentary elections of September 20 – as Nikos Nikolopoulos has reportedly informed Panos Kammenos that he essentially becomes autonomous, stating that he will remain in the parliamentary group of ANEL, but will vote for any bill that "feels right".
Nikolopoulos, as president and the Christian Democratic Party, announced for Tuesday afternoon a press conference, making it clear that it refers to the "new autonomous and unfettered course of the party in Parliament and in society, without discolorations and compromises…"