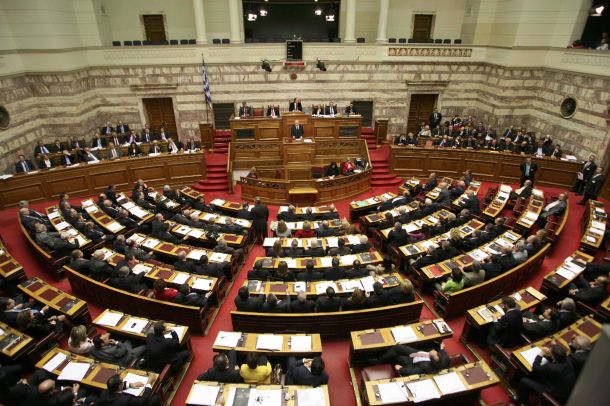 By Spiros Sideris – Athens
With the support of ND, PASOK and DIMAR was passed in principle the new "antiracist" bill, brought by the Ministry of Justice.
SYRIZA was reserved in principle, while ANEL, the Golden Dawn, the Communist Party and the Independent Democrats MPs voted against the bill. Justice Minister Charalampos Athanasiou refused to accept amendments that were tabled by PASOK, SYRIZA and DIMAR for the extension of the Civil Partnership Agreement to same-sex couples, arguing that it is a very complex and serious issue that needs study.
"This issue has many parameters. It has protective, social, religious and political characteristics and needs study. It must be included in the urban, family law. It is not easy or simple to be brought to Parliament in a single provision. It is processed, we will see", Athanasiou said.
Strong, however, confrontation between government and opposition, caused the controversial Article 2 of the bill, which provides for the criminalization of the malicious denial of war crimes and genocides.
Despite the improvement changes from the Minister of Justice, including the genocides that have been recognized by the Greek Parliament, such as those of the Pontian, Armenian and Christian population of Asia Minor, the opposition parties insisted on their disagreement.
SYRIZA accused the government for criminalizing the opposite historic point of view, while its parliamentary spokesman Stavros Kontonis, charged the government with "hypocrisy and attempt to shape the story as they like".
For their part, the Chairman of the Parliamentary Group of the KKE, Aleka Papariga, said: "We disagree fundamentally. Such a provision cannot be included in the bill. It is casus belli for us".
MP of DIMAR, Maria Repousi, argued in turn that "such provisions lead to dangerous paths and are not at all effective".
"Under no circumstances neither the intellect nor reason is criminalized or punished", argued the Justice Minister, insisting that the government intends to modernize the legislative framework and its harmonization with international and European standards.