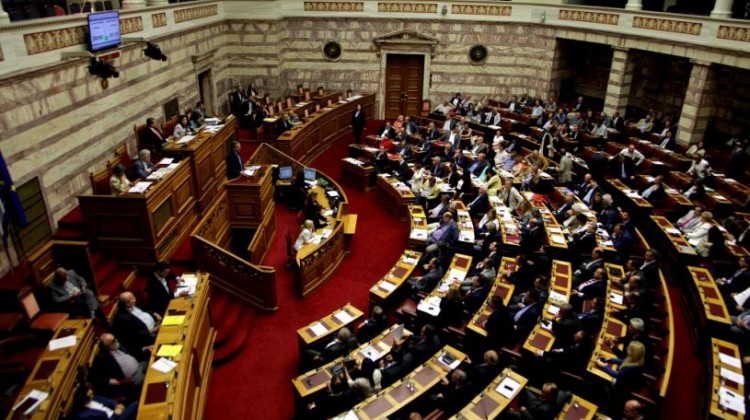 Athens, July 23, 2015/ Independent Balkan News Agency
By Zacharias Petrou
Greek parliament approved in the early hours of Thursday the second set of prior actions (on judicial and banking reforms) required in order for talks to begin on its third bailout program worth EUR 86 billion.
A total of 230 MPs voted in favor of the bill – one more than in the previous vote – while 63 MPs rejected it and 5 abstained. The coalition government had to rely on the votes of the pro-EU opposition to see the bill ratified.
Prime Minister Alexis Tsipras still saw many of his Syriza parliamentarians rebel as 36 of the party's MPs either voted no or abstained, three fewer than at a similar vote last week.
Former finance minister, Yanis Varoufakis, backed the measures, having voted against the government a week ago. He explained that the reforms to Greece's legal system and banking sector which were introduced in the bill brought to parliament are necessary.
The ruling party will most probably split as the PM has repeatedly said he won't tolerate having MPs that systematically vote against such crucial government decisions.
In his speech Alexis Tsipras defended the need to push the bill through parliament despite pointing out that Syriza will never claim ownership of the new bailout program or be proud of it.
"We had to chose between a painful compromise and disorderly default (…) I am proud of the fight we put up (…) We will try to improve the measures of the new bailout", Tsipras said.
The Greek premier also stressed: "We chose a compromise that forces us to implement a program we don't believe in and we will implement it, because the choices we have are tough."
Tsipras told MPs that the danger of dropping out of the eurozone has still not eclipsed as several conservative forces in Europe are still pushing for Grexit. He also pledged to take advantage of every opportunity and coalition in Europe to improve the bailoutterms.
New Democracy's interim leader, Evangelos Meimarakis, criticized the Prime Minister for the deal he closed with creditors but said his party will back the bailout in order for the country to avoid disaster. Meimarakis stressed that Syriza's learning on the job was very expensive for Greeks, adding "we don't support the austerity measures, we don't support the government, but we're voting yes".