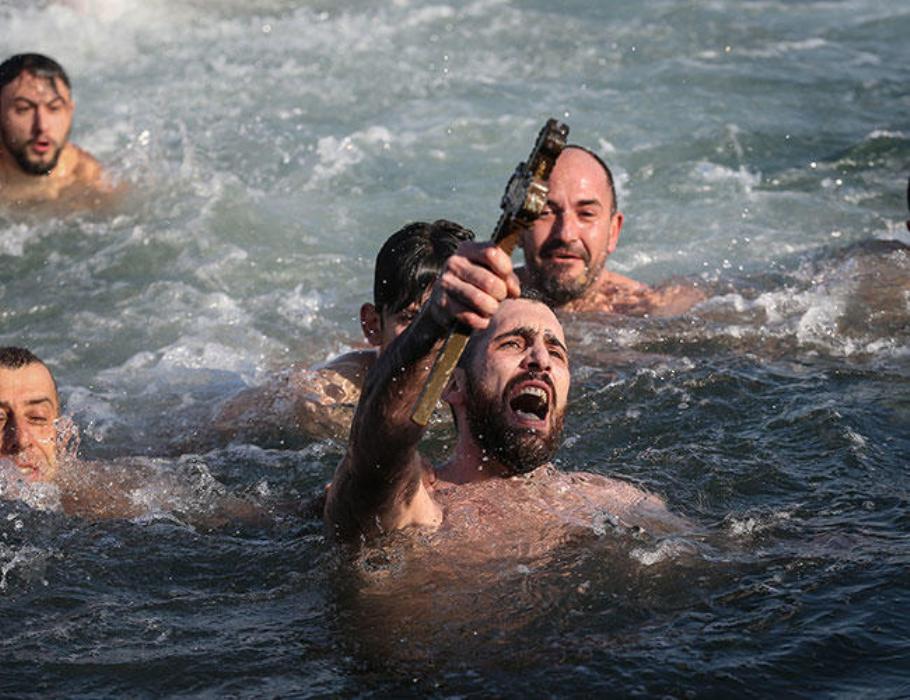 Epiphany, is a Christian holiday when the revelation of God incarnate as Jesus Christ is being celebrated. Historically speaking, it might have originated in the Greek-speaking eastern half of the Roman Empire as a feast to honour the baptism of Jesus. On Saturday, January 6, it was celebrated in Orthodox Christian communities throughout the world, including the tiny (population wise) Greek Orthodox community of Istanbul, Turkey, seat of the Ecumenical Patriarchate of Constantinople.
Ecumenical Patriarch Bartholomew I, the spiritual leader of the Orthodox community in Turkey as well as of all Orthodox Christians worldwide and Archbishop of Constantinople led the divine liturgy on Saturday, at the Patriarchal Church of St. George.
At the ceremony, a wooden cross is being tossed into the water, which has to be retrieved by swimmers, usually male. As the religious tradition dictates, Bartholomew threw the blessed cross into the waters of Istanbul's Golden Horn as the faithful jumped into the sea to retrieve it.
Greek Deputy Foreign Minister, Ioannis Amanatidis and Greek Ambassador to Turkey, Petros Mavroidis were present at the service, which was broadcast live by Greece's national broadcaster ERT./IBNA