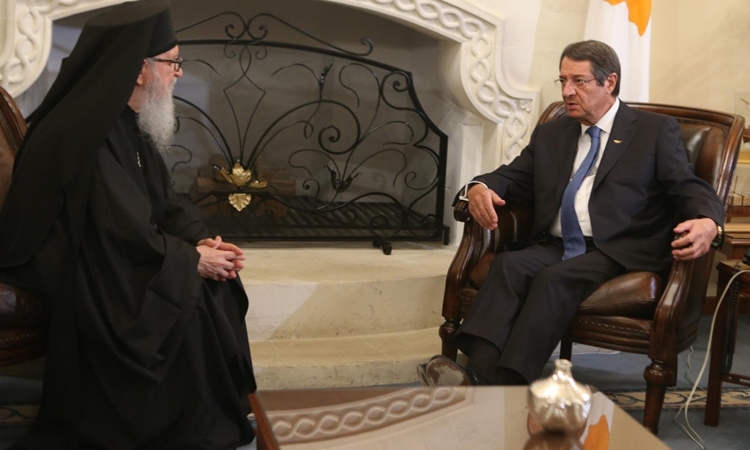 Nicosia July 13, 2016/ Independent Balkan News Agency
By Haris Stefanatos
Archbishop Demetrios of America is in Cyprus to attend a concert on Wednesday evening of the Independent Social Support Body that helps Cyprus students who face financial difficulties to continue their studies.
The Greek Orthodox Archdiocese of America is a keen supporter of the work of the Organisation, whose chair is Cyprus` first lady Andrie Anastasiades. In an event on Tuesday evening at the Presidential Palace, Anastasiades presented the work of the Organisation which so far, has offered assistance to 355 students. She expressed her gratitude to Archbishop Demetrios, for his generous and continuous support.
Demetrios gave a cheque of 50,000 euros to Andrie Anastasiades for the work of the Organisation.
The Archdiocesan Youth Choir, the Philharmonic Orchestra of the Cyprus Police, prominent Cyprus solist Cyprien Katsaris and singer Michalis Hadjiyiannis will take part at the concert at the ancient theatre of Kourio in Limassol.
Archbishop Demetrios made special reference to the work of the Organisation and to the devotion shown by the first Lady, pointing out that the Organisation works in a methodical and transparent way.
He also referred to the Cyprus problem, saying that the Archdiocese will continue its struggle until a solution is found to the island, divided since the 1974 Turkish invasion. Earlier today the Archibishop was received by President Nicos Anastasiades who also hosted a dinner in his honour.
Police Chief Zacharias Chrysostomou in his speech said that the Police play a role in humanitarian and social activities with very positive results.
Katsaris and Hadjiyiannis said that they are lucky and blessed to take part in the concert which serves a great purpose.
The costs of the show are covered entirely by the Archdiocese.
Source: CNA