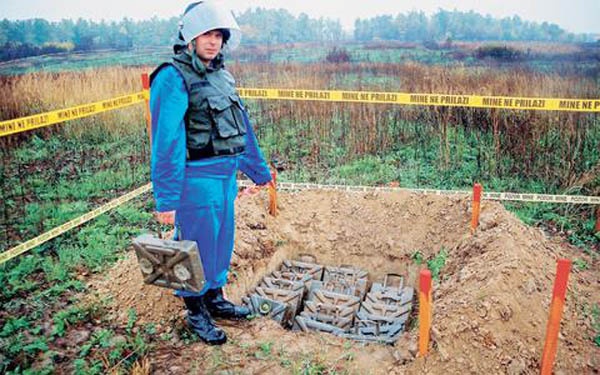 By Lefteris Yallouros – Athens
The chief of a Greek NGO was detained on charges of fraud along with seven others after the Organization named "International De-mining Center" was found to have defrauded the Greek state of EUR 9 million between 2000 and 2004.
Three diplomats were amongst those charged, including Alex Rondos, a one-time adviser to former Prime Minister George Papandreou. The latter's office issued a statement Tuesday accusing certain media of trying to "indirectly involve" him in the scandal.
The NGO received money between 2000 and 2004 from the Foreign Ministry to clear mines in Bosnia-Herzegovina, Lebanon and Iraq. Police allege the money was illegally obtained as the NGO did not meet official funding prerequisites. They also say Greek embassies in countries where the demining was carried out did not monitor implementation and that supervision of the NGO's expenses by the foreign ministry was "non-existent."
Under Greek rules, 25% of the funds for development projects should be met by charities to enable the government to cover the remaining sum.
Reports in the Greek press suggest the Director of the "International De-mining Center", Constantinos Tzevelekos(photo), a journalist, funded a lavish lifestyle through the illegal funds obtained from the NGO. Tzevelekos' wife, a former civil servant, is among seven suspects also implicated in the fraud.
Around 600 NGOs are officially licensed to operate in Greece. In 2011, it was revealed that these organizations had received an estimated €140m in state funding, from 2000 to 2010.
In the absence of a clear institutional framework governing the NGOs and lack of coordination when it came to funding them, it is widely perceived in Greece that millions of euros were wasted through corruption and fraud.
The issue is of high political significance as the Greek government is under great pressure to take action against fraud, as many Greeks the political class remains corrupt and unpunished while ordinary people suffer the consequences of austerity.