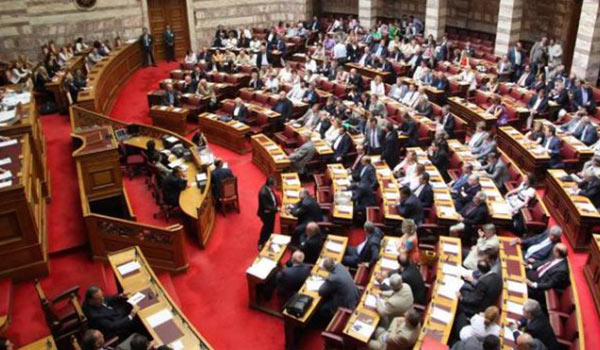 Athens, May 9, 2016/Independent Balkan News Agency
By Zacharias Petrou
The two day debate in parliament over the social security and taxation reform bill tabled by the parliament concluded late on Sunday night with Prime Minister Alexis Tsipras and main opposition New Democracy party leader Kyriacos Mitsotakis clashing over the measures adopted by the Syriza-ANEL coalition.
The debate ended with all 153 Syriza-ANEL coalition lawmakers ratifying the bill.
While the debate in parliament took place, thousands of people protested outside the parliament building on Sunday in opposition to the tax hikes and pension cuts being introduced. The reforms reduce Greece's highest pension payouts, merge pension funds, increase contributions and raise taxes for most income brackets.
Alexis Tsipras defended the reform bill arguing that the social security system was in need of deep reform as it was socially unfair and it did not reflect the current social and financial situation in the country.
The premier stressed that his government's plan will create a viable system that guarantees the pensions of all citizens, adding that it will be socially just, given the difficult circumstances in the economy. "We reform without slashing main pensions and without cutting most of the supplementary pensions; 92.5% of people will see that that their pensions will not be cut not even by a single euro" Tsipras pointed out.
Having heard the conservative leader urging him to call an early election, Tsipras took the opportunity to point out that Mitsotakis has "no positive proposals to make" besides main pension cuts, layoffs and salary cuts.
Earlier Mitsotakis launched a strong attack on the government and the Prime Minister who he called a liar. The New Democracy leader said the reforms introduced lead to certain tax evasion and will bury any effort in the economy for a recovery.
In a dig at Tsipras he said he will go down in history as the youngest and the most discredited ex Prime Minister the country has ever had. "For each day you stay in power, Greece is edging towards becoming a failed State" Mitsotakis added.
The main opposition leader said the pension reform bill lead to a generation war and takes away incentives for people to work while slashing the national pension for everyone to 346 euros a month.