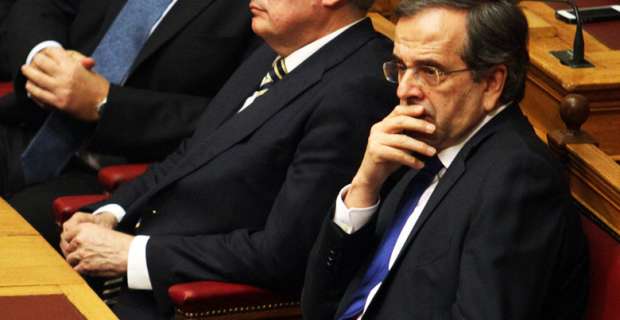 Athens, December 29, 2014/ Independent Balkan News Agency
By Lefteris Yallouros
Greek prime minister Antonis Samaras made one last attempt over the weekend to persuade MPs to vote for presidential candidate Stavros Dimas in Monday's final round of voting in parliament in order to avoid a snap general election.
Lone presidential candidate Dimas needs to secure 180 votes in the final round, twelve more than in last week's second-round ballot. If he is not elected a general election will be called, most likely to be scheduled for January 25.
The PM said in an interview with state television "NERIT" on Saturday that "people don't want a general election now" and that  "the reforms we've shed blood to build in the past three years could be reversed in a single day".
"We need consensus to elect a president now [. . .] if we manage it we will finally have pushed the country out of crisis," Samaras added.
Greek Finance Minister Gikas Hardouvelis also appealed to lawmakers to back Dimas in order for snap elections to be avoided as they will be harmful to the economy. In an interview with Greek weekly "Agora", Hardouvelis said "the election of a president is the way for the atmosphere [in the economy] to return to normality."
"SYRIZA's victory in elections will jumpstart a massive national effort to save society and restore Greece," main opposition party leader Alexis Tsipras said in an article in Avgi newspaper. "Our first step will be to carry out our programme to address the humanitarian crisis. This won't create new loans, nor will it be a subject of negotiations," he said.
An opinion poll published on Sunday gave SYRIZA a 3.2 percent lead over New Democracy while another poll, published on Saturday, showed SYRIZA leading by 4 percent.
Evidently fearing that a snap election – that could potentially bring SYRIZA to power – could undermine the country's international bailout, Germany's finance minister, Wolfgang Schäuble, warned Greece that any new government must respect commitments made by its predecessor.
"We will continue to help Greece along the path of difficult reforms," Schäuble said in an interview with Germany's Bild newspaper published on Saturday. But if Greece "decides to take another path, that will be more difficult," the German finance minister warned.