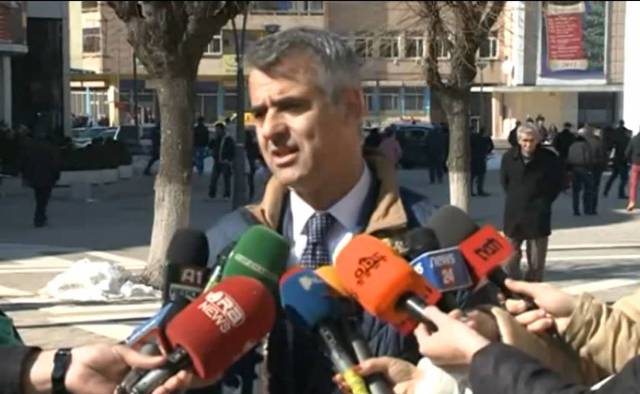 Tirana, 26 June 2015/Independent Balkan News Agency
By Edison Kurani
In Albania, Unity for Human Rights Party (PBDNJ) didn't meet its electoral objectives in the June 21 elections.
This party's leader, Vangjel Dule, says that before and during these elections, this party and its members faced "an unprecedented and unreasonable attack by a significant part of the media".
"At the same time, we were facing not only political parties and government structures, but also state structures, which in an anti-constitutional way, were involved in the process and affected the election result", Mr. Dule notes.
This fact, he adds, must concern all of us as to how interested we are for a functional democracy, rule of law, human rights in general and minorities in particular.
But must this situation eclipse the political responsibility of PBDNJ?
Mr. Dule says that he cannot evade responsibilities. "We as leading structures and I as chairman, assume full political responsibility for the election result", he says.
Mr. Dule says that this responsibility must be subject of an analysis and debate in the leading structures of PBDNJ during the next party congress.
This party has also decided to launch a debate among its membership and supporters, but also among those who for one reason or another left it.
De facto, PBDNJ left the governing coalition after Edi Rama gave the post of the deputy speaker of Parliament to the Tcham party, PDIU, which became part of the majority, after it had been part of the right for more than two decades.
Dule resigned as deputy speaker of parliament and this party ran in the elections on its own. This party didn't win any town halls, while in terms of political ballots for municipal councils, it obtained around 0.99%.
In the recent days, PBDNJ denounced a series of cases, which according to it, show that there have been manipulations at the detriment of the Greek minority.
Thus, in the municipality of Himara, PBDNJ denounced that in all the ballot boxes which were counted for the municipal councils, the security codes of the ballot boxes' seals didn't coincide with the security codes of the sheet accompanying the closure of the boxes.
"This fact shows that this is the same way how the rigging took place with the mayoral ballots", Mr. Dule suggests.
The Albanian electoral code punishes these direct violations of the law which lead to a clear manipulation of the people's will. However, so far, there haven't been any punishing measures. /ibna/