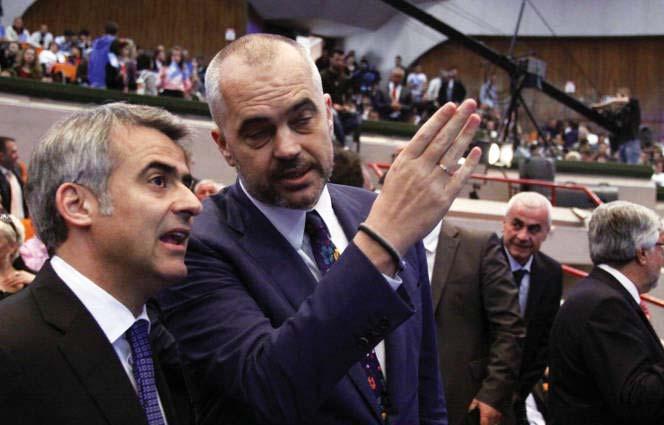 The candidates of UHRP for municipalities will be proposed by OMONIA. Cooperation with other parties outside of the majority and opposition
Tirana, April 21, 2015/Independent Balkan News Agency
In Albania, United Human Rights Party (UHRP) has decided to run in the June 21 elections on its own.
This political force that represents the Greek minority in Albania, is currently part of the governing majority.
But, with the entry in the left wing coalition of PM Edi Rama of PJIU, the party that defends the rights of Tchams, UHRP de facto finds itself outside of the coalition that won the general elections two years ago.
The head of UHRP, who is at the same time vice speaker of Parliament, said today that the decision to run on its own came following negotiations with the main political parties, SP from the majority and DP from the opposition.
At the end of these talks, UHRP has decided to run on these elections on its own and to remain out of coalitions with the majority and opposition.
Meanwhile, the names that will be run under the logo of UHRP will be proposed by OMONIA (The Democratic Union of the Greek Ethnic Minority). The General Council of Omonia will make the selection of candidates for municipalities which have been traditionally inhabited by a considerable part of the members of this minority. These decisions will be approved in a definite way by the leading structures of UHRP.
Mr. Dule says that the aim is to have UHRP present in 100% of administrative units, at least on a council level.
"Parallel to this, until the end of the legal deadline, UHRP will closely follow the local situation in particular municipalities in order to identify different possibilities of cooperation with other political forces", Mr. Dule says.
The division between UHRP and the government started a year and a half ago, when the left wing came back to power. This party was given only the post of the vice speaker of Parliament and not ministerial portfolios. Moreover, PM Edi Rama announced the territorial administrative reform which was strongly objected by the Greek minority. According to UHRP, this division aimed at damaging the interests of the Greek minority. This reform was not voted by UHRP and is not recognized by it. The crisis became even deeper when the Tchams signed an agreement with Rama to become part of the coalition.
Although  UHRP has not officially announced its departure from the governing majority, de facto, the departure has already taken place. /ibna/