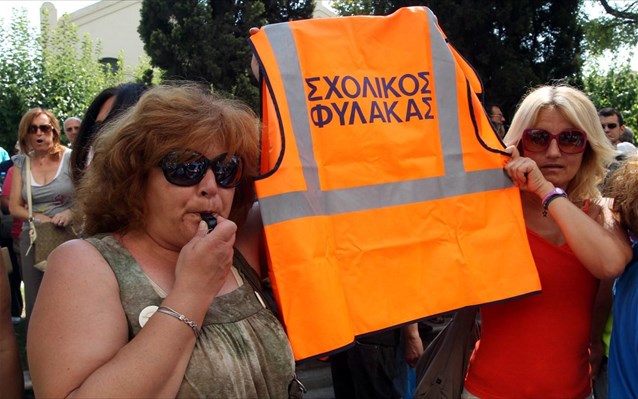 By Christos T. Panagopoulos
Hundreds of school guards, protesting about the mobility measure the Greek government has decided and by which they will be made redundant, seized early on Wednesday morning the building of the Ministry of Interior in Athens.
Speaking to the "SKAI" radio station, school guards' spokesman, Sotiris Avgeris, stated: "The government has decided overnight to abolish the institution of the school guards and on the other hand is prepared to hire another 3.800 school guards via the National Strategic Reference Framework (ESPA). We claim our right to work, which was taken from us".
Earlier, Minister of Interior, Yannis Mihelakis, speaking to TV Station "Mega", said that he has already a scheduled meeting with representatives of the school guards, in which he will listen to their demands.
At 10:30 (Greece's local time) a protest was scheduled to start outside the Ministry of Administrative Reform by the syndicates representing the municipal servants.
The mobility measure has already affected more than 12,500 public servants. The government stresses at all tones that they will be moved in different positions in the broader sector of the public administration, but syndicates insist that this only an excuse which will lead many employees to be made redundant.
Sources: Mega, SKAI, Naftemporiki