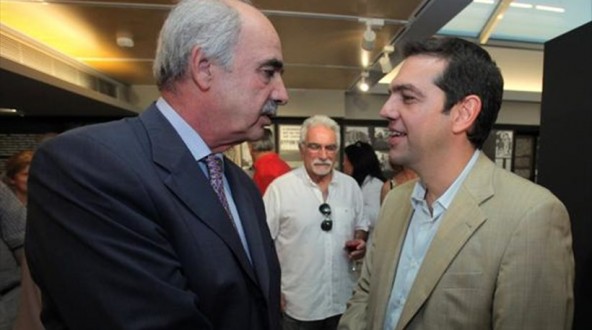 Athens, September 2, 2015/ Independent Balkan News Agency
By Zacharias Petrou
Post-election coalition scenarios are beginning to circulate in Athens as details of the campaign trails of the major parties, Syriza and New Democracy, also emerged Tuesday.
Syriza leader Alexis Tsipras began a series of speeches throughout Greece, starting on the island of Crete. New Democracy leader Evangelos Meimarakis delivered a speech to mark the party's return to its former headquarters in Athens, at Rigillis Street.
Meimarakis criticized Alexis Tsipras for evading dialogue and consultation and claimed that the former PM simply wants to 'escape' from power.
The New Democracy party leader said that although he has proved his willingness to engage in dialogue to tackle the country's pressing problems, Tsipras is not willing to talk.
Problems in the economy are not expected to get any better during the pre-election period.
The Director of the IMF's European Department, Poul Thomsen, reportedly briefed the Fund's Board of Directors that elections in Greece will probably delay the first review of progress in the implementation of the country's new bailout program. This will result in the disbursement of the next tranche of funds being delayed.
Post-election collaborations – perhaps even a grand coalition between Syriza and New Democracy – may be more than necessary to see through highly unpopular reforms and the implementation of the latest bailout agreement.
At the beginning of the week, outgoing Prime Minister Tsipras appears to have altered his party's strategy, acknowledging that coalitions will almost definitely be needed following the Sep 20 election.
It seems all the more apparent to analysts – and Syriza high-ranking officials too – that there will be no winner of an outright majority in the aftermath of the election.
Earlier this week, former interior minister Nikos Voutsis did not rule out the possibility of SYRIZA working with New Democracy and PASOK. Similar statements were made by senior Syriza members, Nikos Pappas and Olga Gerovasili although collaboration with Pasok and Potami is clearly favored to a coalition with ND.
Potami leader Stavros Theodorakis also encouraged the idea of SYRIZA and New Democracy working together after the elections.
Meanwhile, voters are about to shape a clearer view of what party leaders are pledging and what their plans are for the country as two televised debates will be called in the run-up to the Sep. 20 election, the first of which will take place Sep 10 with all political party leaders participating.
Another debate to be held Sep 14 will feature just Alexis Tsipras and Evangelos Meimarakis. Rules governing the debate and further specifics will be ironed out by party officials this week.