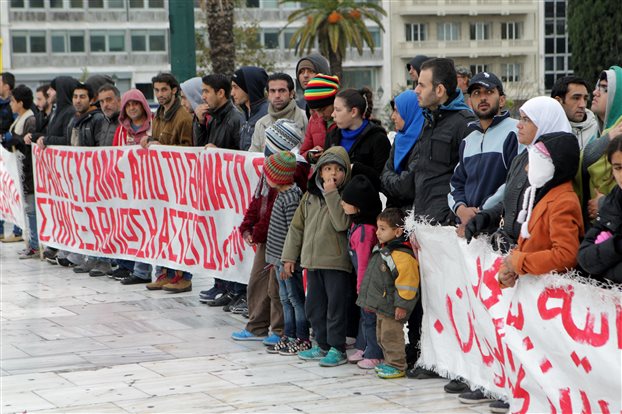 Athens, December 3, 2014 / Independent Balkan News Agency
By Spiros Sideris
The decision of the government to resolve the problem with Syrian refugees – who have been protesting for the 13th day in Syntagma Square and have gone on a hunger strike for a week now – by granting them political asylum, confirmed the Secretary General of Population and Social Cohesion of the Interior Ministry Angelos Syrigos, adding that their presence in the square Constitution "can not continue for much longer".
In a press conference, Syrigos reiterated that the political asylum is the only legal possibility of managing the problem of Syrian refugees, a possibility which will then give them the right to travel – but not to reside and work – at another EU state.
At the same time, he said, the refugee status is a condition of the government to take privileged support and provide them with housing. Syrigos also clarified that we are taking about "de facto refugees" – "in order to be granted housing they must apply for asylum".
The refugees on their part, ask to be granted travel documents in order to move to other European countries of their choice and seek political asylum there.
Regadless of their intentions,  Syrigos said that "from the contacts the Syrians refugees had until now (with embassies of other countries) they discovered that there is no intention from these countries to get them to their lands".
Regarding the numerical depiction of refugees coming from Syria, which is escalating incrementally, he noted that in 2011 entered Greece 1,500 Syrian refugees, in 2012 the number increased to 7,900, in 2013 to 8,500 and in 2014 to 28,500 people (men, women and children). In October alone, managed to enter the country 4,760 people.