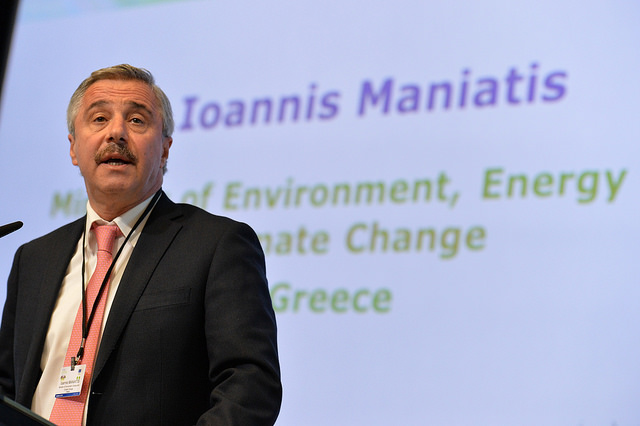 By Spiros Sideris – Athens
The need for a European mechanism for the supply of Liquefied Natural Gas (LNG) to tackle the threat of an energy crisis due to the situation in Ukraine demonstrates the Greek Minister of Environment, Energy and Climate Change, Yiannis Maniatis, in his letter to the President of the European Commission and Commissioner for Energy, Günther Oettinger, and the President of the Council of Energy Ministers of the EU, Deputy Minister of Economic Development of Italy, Claudio De Vincenti.
Specifically, Giannis Maniatis proposes to create an "Emergency Coordinating Mechanism of Liquefied Natural Gas (LNG)", under the supervision of the Coordination Group for Natural Gas (Gas Coordination Group), aimed at giving priority delivery of excess quantities of LNG in the most affected European markets, instead of other destinations.
The establishment will allow Member States, the Commission and the companies of the gas sector to undertake, in close cooperation, their joint responsibilities for ensuring the supply of natural gas as described by Directive 994/2010 and spirit of solidarity it establishes.
On the matter, the Greek Minister made ​​the following statement: "The chances of having significant interruption in duration and quantities of natural gas to the EU, during the winter, has increased more than ever.
The Balkan region is expected to be affected more than any other region in Europe. An important solution for the countries in the region can be the supply of LNG, via Greece.
Greece takes the initiative for Europe to create for the first time a solidarity mechanism to supply LNG volumes in the possible event of power failure. We propose to create a consistent, integrated European energy policy in this area.
With our proposal we ask the EU to go from the phase of the European Monitoring of energy crisis, to a public crisis management mechanism to deal with such crisis, as a single political entity, as it ought to be the practice in Europe, with the creation of a transparent, effective mechanism for providing and distributing natural gas.
In this context, we propose to create, during a crisis in the supply of Natural Gas, a list of suppliers who have LNG for disposal, and a corresponding list of national needs for LNG in EU Member States. The Commission is urged to coordinate efforts, which will create the right economic incentives and provide the necessary guarantees, including funding from the EU side, so that suppliers of the available LNG supplies direct them towards the EU countries, which are most in need during a possible crisis.
This initiative of Greece may be an effective way to supply its neighbors – and Greece, of course – with natural gas, while at the same time upgrading the geopolitical importance of the country".