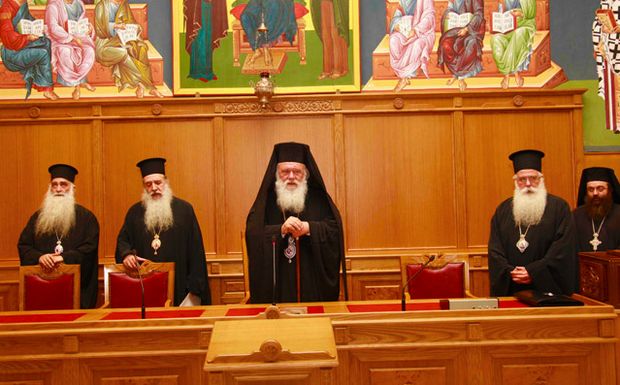 Athens, January 15, 2016/Independent Balkan News Agency
By Spiros Sideris
The cremation is like waste recycling, says the Standing Holy Synod of the Church of Greece, which took place Thursday under the chairmanship of Archbishop of Athens and All Greece, Hieronymos.
The Holy Synod discussed the draft law entitled 'Measures to speed up government work and other provisions', Article 21 of which everyone can choose, among other things, the "type of ceremony for one's funeral" and this statement is mandatory for all organs or services 'that curate the burial of the dead, "provided they do not conflict with' the rules of public order, health or morality".
In its statement, the Holy Synod emphasises that "with the above general wording is violated the religious freedom of the Orthodox Church, the priests of which should not be forced by law to perform a funeral ceremony, if someone asked for a religious funeral, but with the same or another statement had chosen the incineration of the body".
"It is reminded that in the modern process of the euphemistically 'cremation', after the burning of the remains in an oven, the human skeleton is thrown in an electric crusher (mixer, cremulator), is crushed and pulverized. The Holy Synod refuses to accept that it is decent for the dead to be burned in an oven and then crushed in a mixer and does not find great differences between modern 'cremation' and the 'waste recycling process'", the Holy Synod states.
The Communication notes that "unfortunately some municipalities rather than face the functional status of their saturated or problematic cemeteries, rush to declare ready for land purchase and equipment for incineration centers, basically implying that anyone who insists on burial tradition will continue to suffer degrading treatment".
"That is, a methodology of mutilation, instead of addressing the problem, which is perpetuated extortionately in favour of incineration, so that the latter be promoted as supposedly decent for the dead and cheaper and less macabre for the relatives. In this context, taking care of the Orthodox People, the Holy Synod decided to establish a Committee, which will submit a proposal in order to hold a consultation between the Church and relevant state and self-governing bodies", says the Church.