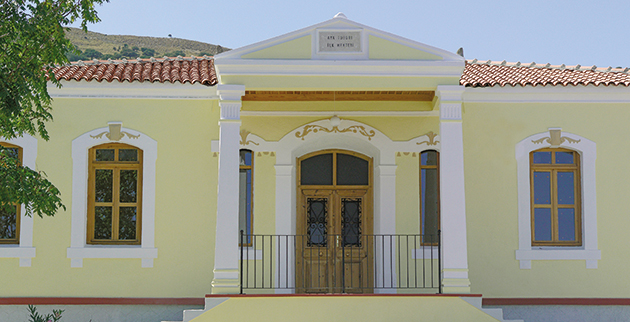 Turkish authorities forbade its operation
By Manolis Kostidis – Ankara
Turkish authorities in Imbros have vetoed the opening of a greek high school – lyceum.
The bureaucratic, 'no' of Ankara came immediately after the strong reaction of Turkey, on the 'anti-racism' bill approved by the Greek Parliament.
Last year Turkey had given its approval for the reopening of the Greek primary school after 49 years. The Greek community of Imbros, after this positive development, began efforts for the opening of a Greek High school as well, in the village Agridia, where the building of the former Urban School used to be.
The building had been illegally confiscated by the Turkish government and had been operatiing as an Urban School of the Diaspora from 1954 to 1964. At that year it was arbitrarily turned into a Turkish Urban School.
The Greek community began the efforts to rebuild the building last June, after the Turkish authorities gave it to the Association for Education and Culture of Imbros.
The work was completed, however, the legal obstacles were not overcome.
"Nobody had mentioned that there was a definitive date; perhaps if we knew about it we could do some work even faster", says the Vice President of the Association of Education and Culture, Joachim Kampouropoulos.
The Turkish authorities on August 30 had indicated that the school could not be opened, since there were some minor work left for the completion of the restoration and that the whole project should have been ready by September 1.
After efforts by the Greek community, assurances were given from Ankara that the authorization of the school will be included in a special closed amendment before the Turkish Parliament on September 10. The promises were not respected however, and it was officially announced that the greek high school – lyceum would not be allowed to operate, which caused a lot of frustration on the island.
According to Mr. Kampouropoulous, the school would operate with 7 students this year, of whom six would come from Greece, but now everyone will have to return, as well as their families, who due to the decision of the turkish authorities postponed their relocation of the island.
The president of the Association for Education and Culture, Lakis Vingas, wondered "how can we promise a future when we cannot provide education"?
In the village "Panagia" of Imbros there was a secondary school, which in 1964 the turkish authorities banned its operation.