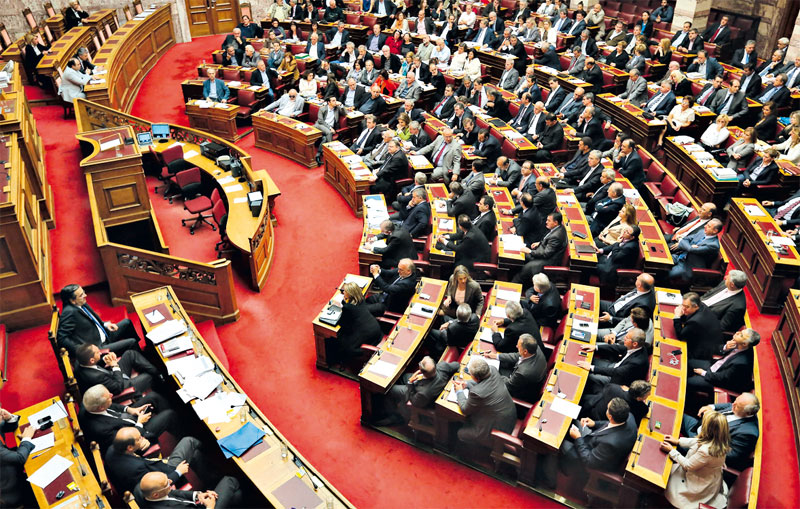 By Lefteris Yallouros – Athens
Troika inspectors leaves Athens without an agreement with the government over the crucial issues that must be settled in order for Greece to receive the next tranche of its EU-IMF sponsored rescue loan.
After two meetings with Finance minister Yannis Stournaras and one with Administration Reform minister Kyriacos Mitsotakis on Wednesday, the troika leaves without signing off on the 2014 budget which will be table in Parliament Thursday. This mean a supplementary budget will probably be submitted to include changes agreed with the country's lender, when an agreement actually occurs.
Both sides are reportedly keen on striking a deal before the Eurogroup meeting on December 9th. An agreement will have to be reached on next year's fiscal gap as well as cost-cutting measures to bridge any fiscal gaps for 2014 and quite possible 2015 also.
There was some progress, however, made Wednesday at troika inspectors rubber stamped the first wave of public sector layoffs, agreeing that the Administrations Reform ministry had made substantial progress and gave minister Kyriacos Mitsotakis more time add the second set of civil servants to the mobility scheme that will eventually see them moved to other posts or laid off.
Meanwhile, on Friday, Greek Prime Minister Antonis Samaras will hold talks with German Chancellor Angela Merkel in Berlin.  The two leaders will not be discussing the details of Greece's adjustment program, the German Chancellor's spokesman said.
However, in Greece this is considered a very important meeting as the government will hope a statement of support by Angela Merkel for the Greek reform effort could bring a settlement with the troika closer. This is especially highlighted in parts of the Greek press as it is considered that the troika is stalling on any deal with Greece until a government is finally formed in Germany.
French bank BNP Paribas analysts said in a report Wednesday that an agreement will be reached on next year's fiscal gap; however, the issue of Greece's unsustainable debt must be addressed by mid-2014. The easiest way to do that would be through a political solution, the bank says.