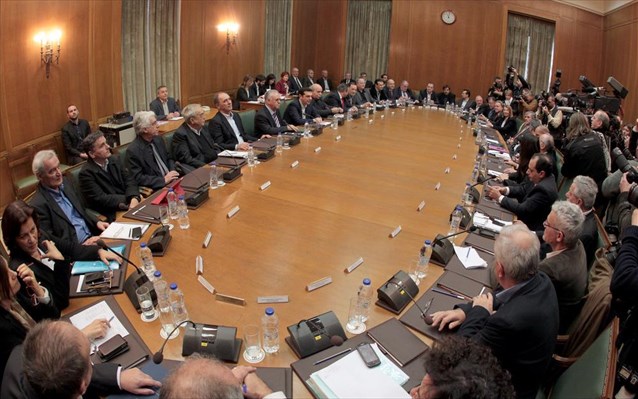 Athens, March 3, 2016/Independent Balkan News Agency
By Zacharias Petrou
Prime Minister Alexis Tsipras chaired a marathon cabinet meeting on Thursday to discuss all the details of the ongoing refugee crisis and determine Greece's strategy and stance in an EU – Turkey Summit on March 7 on the issue.
Alexis Tsipras told the cabinet meeting that the previous EU Council decisions on how to address the rising flows of refugees fleeing war in Syria to the European Union via Greece were not respected. He also revealed that Greece will establish a Refugee Crisis Management Center and step up efforts to accommodate refugees and migrants "trapped" in Greece for as long as necessary.
"Member-states on the so-called Balkan Route took unilateral action in cooperation with non-EU-member-states. This practice is unacceptable to Greece and intolerable. The main problem is to reduce the flow in [Greece's] norther borders and address the lack of action on behalf of Turkey so far to stem flows" the Greek premier said.
Regarding the Greek political party leaders' council on Friday that will seek consensus and form a national strategy, government sources said the aim was to reach a common understanding and hold a constructive dialogue. Main opposition party leader Kyriacos Mitsotakis and other minor opposition party leaders have publicly warned against Greece vetoing an EU decision at the March 7 Summit.
Greece requests the fair allocation of the refugees, the rapid implementation of the EU relocation program so that unilateral actions are prevented and the disbursement of emergency aid to cope with the challenge. Government officials appear to be in disagreement over the necessity and of a veto if decisions do not go Greece's way.
According to the Athens News Agency, government sources described a telephone conversation between Tsipras and his Turkish counterpart Ahmet Davutoglu earlier on Thursday as a "good talk" lasting roughly half an hour and aiming at a good stance at the upcoming EU-Turkey Summit.
The same sources also described the stance adopted by German Chancellor Angela Merkel on the refugees issue as "positive".
According to the Greek Prime Minister's office, the discussion between Tsipras and Davutoglu focused on the reduction and management of the refugees' influx, the EU-Turkey summit that will be held on March 7 in Brussels as well as on the 4th meeting of the Greece-Turkey High Cooperation Council that will take place on March 8 in Izmir.
Also on Thursday, EU Council President Donald Tusk who is officially visiting Athens met with the Greek PM. Tusk made clear in a public statement that European countries will no longer allow economic migrants to pass through their territory.
"I want to appeal to all potential illegal economic migrants wherever you are from: Do not come to Europe. Do not believe the smugglers. Do not risk your lives and your money," Tusk said after meeting with Tsipras.
"It is all for nothing. Greece or any other European country will no longer be a transit country," he said. "The EU will not leave Greece alone," he added.
On his part, Prime Minister Alexis Tsipras admitted that Greece is facing a humanitarian crisis, saying that the country "needs aid for supplies and equipment" and "funding for infrastructure and recruitment".
"Greece will do its best to offer its help to everyone," Tsipras added underlining that greater cooperation is needed with Turkey in order to limit refugee flows.