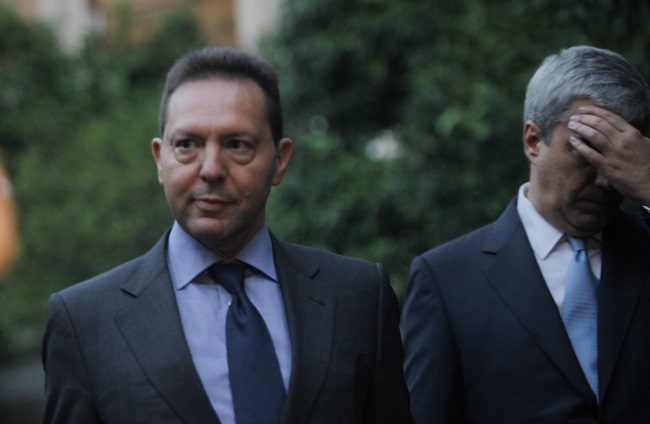 By Lefteris Yallouros – Athens
Reports emerged in the Greek press over the weekend suggesting Finance minister Yannis Stournaras may be replaced by Prime Minister Antonis Samaras.
The rumors are a result of ruling New Democracy and PASOK MPs and party officials have reportedly criticized Stournaras for his insistence on implementing measures agreed with the country's international lenders to the word.
Stournaras, it is suggested, could also be replaced ahead of next year's local election.
Government spokesman Simos Kedikoglou flatly denied the Fin Min was under any threat of being axed.
"Everything being written about the Prime Minister and Mr. Stournaras has nothing to do with reality. The Finance Minister enjoys the full confidence of the Prime Minister", the spokesman said.
However, the press reports Stournaras was bypassed last week by Deputy Finance Minister Christos Staikouras who got the go-ahead from the PM to directly request from the troika that a special fuel consumption tax is lowered, despite the Finance Minister disagreeing.
Furthermore, a rift in the Samaras – Stournaras relations is thought to have developed stemming from a disagreement over the exact time Greece will be ready to go to the capital markets again for money. Samaras has publicly stated this will be possible in 2014 while Stournaras has distanced himself from such expectations.
Meanwhile, the Finance Ministry has reportedly found a way of covering an anticipated funding gap for of EUR 4.4 billion next year.
Greek daily "Kathimerini" reports EUR 4.4 billion in bonds that were issued in 2009 as a capital boost for Greek banks and are to mature next May would be replaced by new bonds. This means a possible funding gap in 2014 could be plugged and the government could put off imposing further unpopular measures.
The proposal will be put to troika officials set to arrive in Athens at the end of October.