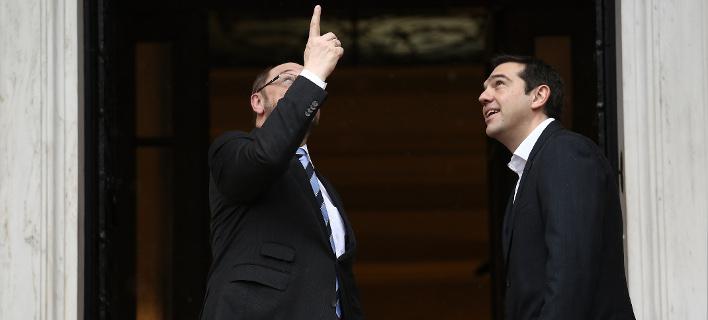 Athens, January 30, 2015/ Independent Balkan News Agency
By Lefteris Yallouros
Greek Prime Minister Alexis Tsipras has been filling his agenda with meetings since coming to power last Sunday as EU leaders attempt to find out what his intentions are regarding the country's international bailout agreements.
On Thursday, Tsipras hosted the first European official to visit Greece for meetings with the new administration. European Parliament President Martin Schulz made the following statement after talking with Tsipras: "In many open discussions in Europe there is a concern, some concern that Tsipras will follow his own course. What I have concluded today is that is not the case."
The Greek PM, for his part, said that he is determined to strive for "a comprehensive European and mutually beneficial solution on matters of common interest." He noted that "it will take time" for such an agreement to be reached. But he insisted that his administration, which wants to renegotiate Greece's loan commitments, is open to discussions. "We are negotiating with safety, we are guaranteeing stability," he said.
"We will not continue with the failed recipe of austerity," Alexis Tsipras also told Martin Schulz.
On Friday, Eurogroup chief Jeroen Dijsselbloem is due in Athens to hold talks with Tsipras as well as Finance Minister Yanis Varoufakis. "In all honesty if you add up all the promises (of the election campaign), then the Greek budget will very quickly run totally off course," Dijsselbloem said in a clear warning hours before he is expected Athens.
Dijsselbloem said he was open to hearing the Greek government's plans for easing the country's debt burden, but added: "What's most important for Greece is that they adhere to the agreements that we have with each other."
The message coming to Greece from Europe is that while negotiations will in fact occur between Athens and EU officials in order to explore how the new government wants to proceed with the program and reforms, there are no signs creditors will back down from demanding Greeks meet their commitments.
Assurances that Greece will not make any unexpected moves may be calming for the moment but as repayment of bonds worth a total of 6.5 billion euros (in July and August) approach, pressure will mount for an agreement. Standard and Poor's said it may cut Greece's credit rating should the new government fail to agree more financial support for the country.
Meanwhile, Yanis Varoufakis is due to travel to London on Sunday to meet his British counterpart George Osborne as well as investors and then goes to Paris on Monday to meet French Finance Minister Michel Sapin and Economy Minister Emmanuel Macron. He meets Italian Economy Minister Pier Carlo Padoan in Rome on Tuesday.
Varoufakis has said he is seeking to win support for a renegotiation of Greek debt and a "bridge" deal to replace the current bailout program. Meetings with counterparts are seen by Varoufakis as highly important towards building support for the new government's anti-austerity campaign.