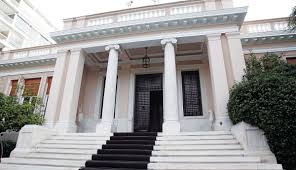 Athens, April 6, 2015/ Independent Balkan News Agency
By Spiros Sideris
The government's negotiations with its lenders, the "red lines" and retreats, are points of confrontation not only between the government and opposition and media within the government.
Speaking on the television show "MEGA Weekend", the parliamentary spokesman of SYRIZA Nick Phillis disagreed with the view of Party MEP Kostas Chrysogonos for resorting to the polls if the result of the negotiation is different from the pre-election promises.
"There is no way the agreement that the government will reach with the lenders will not by accepted by the government majority", he said.
He added however that "the government will make a mutually acceptable compromise, and this compromise requires taking a step back. They will not be unpopular, they will not be austerity measures".
Along the same lines was the Minister of State Alekos Flabouraris who, speaking on the morning show of SKAI television, appeared confident that the deal will close. "Elections are neither the at the back nor the front of my mind, because there is no reason", he said.
In the morning show of MEGA television the parliamentary spokesman of ND Adonis Georgiades openly accused the government for leading the economy into recession.
"The market, the real world has been frozen. Mr. Phillis said 'we will not take austerity measures'. There is no bigger lie that this. They have already taken austerity measures. The fact that they have dried up the market of money has driven the economy from the  +0.5% that we were to -3% that we are now. Within two months we have lost 3.5 points of growth", he said.
Also critical of the tactics used by the SYRIZA government was both the general secretary of the CC of KKE Dimitris Koutsoubas from Thessaloniki and PASOK leader Evangelos Venizelos in an interview with the newspaper "To Vima".
"An agreement that has all the memorandum requirements, has evaluation, fiscal discipline, balanced budgets and primary surpluses, has equivalent and costed measures. It thus has all these for which the people bled during the previous years with the ND-PASOK government's agreements", Koutsoubas said.
On his part, Venizelos stressed among other things that "deliberately they are forming a society of low expectations convinced that it is enough to save the country from bankruptcy, that it is enough to find every two weeks money for salaries and pensions in the near miss. We are a country of almost bankruptcy".