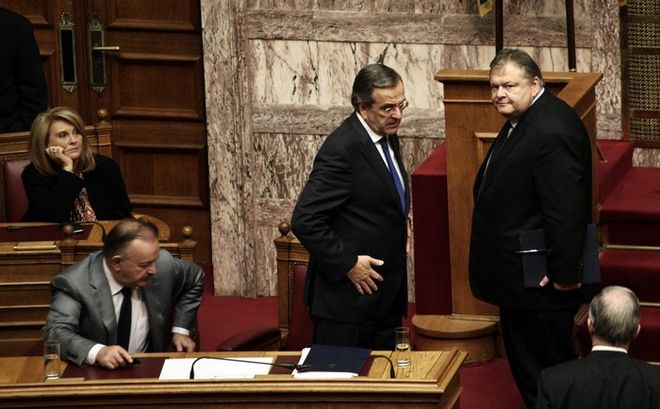 By Spiros Sideris – Athens
Vote of confidence have received the government, with the 155 votes of ND and PASOK, of a total of 288 votes, while there were no "leaks" from the camps of the two coalition parties.
In contrast, 131 MPs voted 'no', with the anti-government bloc consisting of the Parliamentary Group of SYRIZA, the Independent Greeks, the Golden Dawn, the KKE, DIMAR and almost all independent MPs.
None of the independent MPs stood for the government, while two, Grigoris Psarianos Katerina Markou, both former MPs of DIMAR, voted the only two "present" in the process.
The vote of confidence puts a temporary end to the debate on early elections, in view of the presidential election in March. Both Antonis Samaras and Evangelos Venizelos made ​​it clear, however, that they separate the vote of confidence from the vote for the election of a new President of the Republic.
After the vote, there was a "disagreement" between Antonis Samaras and Alexis Tsipras on early elections.
Absent from the vote were the independent MP Giorgos Davris, who stated he would be "absent as if he was there", the also independent Chrysovalantis Alexopoulos, while from SYRIZA, Zoe Konstantopoulou (on honeymoon) and Giorgos Stathakis, in addition to the remanded MPs of the Golden Dawn and the also remanded independent MP Stathis Boukouras.
The vote of confidence preceded intense political confrontation between the two government partners and Alexis Tsipras.
The Prime Minister and Deputy Prime Minister stressed that Greece does not need a new support program, not even a preventive one, and clearly left open the possibility of an early exit of Greece from the loan agreement with the IMF, which normally ends in March 2016.
They also accused SYRIZA of – a political stance that stands to profit from the presidential election procedure, adding that with his stance he challenges the country's efforts to emerge from the crisis and raise unjustified risks, undermining the efforts and successes so far.
On his part, the opposition leader called for the immediate declaration of election, calling on the government to realise that whatever number of "yes" they take the vote of confidence, it cannot bridge the gap to the 180 votes needed for the election of the President of the Republic.
He also accused the government partners that in reality they plan to implement memorandum-like measures, either with or without the troika, while at the same time they have no intension to opposing Germany for the relief of the debt.