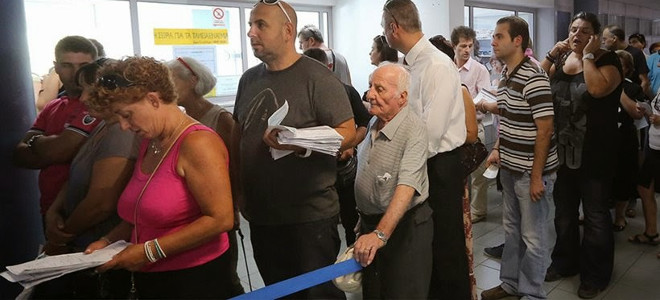 By Spiros Sideris – Athens
Starting early September will begin the 'pilot' implementation of the guaranteed minimum income (GMI), while the universal application of the new system will begin in the first half of 2015.
The 'pilot' implementation will take effect in 10 municipalities in the country, which will be announced in July. In the first phase there will be allocated more than 20 million, while in October the preliminary draft budget (PDB) will register the relevant item, which will amount to between 850 million and 1 billion.
The final details for the implementation of the program were set at the meeting held on Thursday at the Department of Labor, between the Secretary of State Basil Kegeroglou and troika's technical team.
According to a senior staff of the Ministry of Labour, the allowance is estimated to amount to 400 euros for a family of four with two minor children, of which 100 euros correspond to the costs of residence, 100 euros per adult and 50 euros per child. In the case of a family with one child, the amount will be 350 euros, while in the case of single parent families the child will be subsidized with 100 euro as an adult.
For administration of GMI the income criteria will be taken into consideration. According to the same sources, for a family with two minor children the income limit will be calculated at 4,800 euros, while for a family with four adults it will reach 6,000 euros.
For the final calculation of the amount the income of the current year and not the previous one will be taken into consideration, while in the cases of employees 80% of the income will be calculated. Finally, for the administration of the GMI the welfare and unemployment benefits will also be taken into consideration.