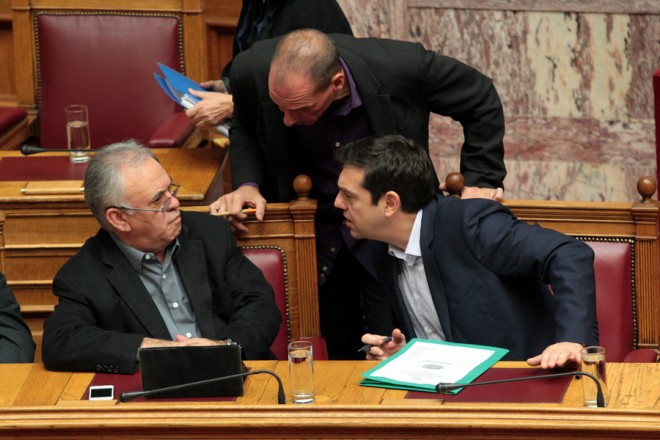 Athens, February 23, 2015/ Independent Balkan News Agency
By Lefteris Yallouros
The Greek government is preparing a list of planned reforms to submit to its international creditors on Monday, having agreed a four-month extension of the country's bailout deal during a Eurogroup meeting last week.
The bailout extension has handed the Syriza-led coalition government valuable time during which it can feel secure about its future in the euro. However, as Prime Minister Alexis Tsipras said, last Friday's deal is just one battle in a war and "difficulties lie ahead".
Pledges on areas such as tax evasion, corruption and public administration are set to be tabled. However, there will not be specific figures or targets to be achieved tied to the goals, according to a Greek official who spoke to Reuters. On Tuesday, eurozone finance ministers will review the proposals.
The difficult task for the Greek government is to satisfy Greek voters who backed SYRIZA in order for the party to end austerity, abolish the memorandum and get rid of the hated troika. Following last Friday's agreement, the government has had to take back most of the anti-austerity pledges it made in the run-up to last month's election. The deal will also be difficult to sell to the far-left part of the SYRIZA coalition of leftist groups as well as the right-wing nationalists of ANEL, SYRIZA's partner in the coalition government.
Among the concessions made by Athens was an agreement to "refrain from any rollback" and "unilateral changes" of existing reform measures. The deal did not address the country's debt either, which SYRIZA has promised to cut. Furthermore, the eurozone's bailout fund will take back EUR 10.9bn in bonds currently in the hands of Greece's bank rescue facility.
"As long as the program isn't successfully completed, there will be no payout," said Wolfgang Schäuble, after last week's Eurogroup meeting in Brussels.
One of the few positives the Greek delegation took back to Athens was a "window" to lower primary surplus target in future. "We managed to avert a series of many years of suffocating primary surpluses that our economy cannot produce," Greek Finance Minister Yanis Varoufakis said.