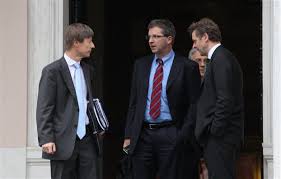 By Lefteris Yallouros – Athens
Ministers return to Athens this week following a short summer break in order to prepare for talks with troika auditors in Paris coming up in September.
The members of the cabinet directly involved in achieving goals set in the memorandum with the troika will travel with Finance minister Gikas Hardouvelis to Paris from September 3 – 5.
Meanwhile, they will have had to have implemented agreed reforms in order for Athens to push for the launch of negotiations on debt relief, as the Prime Minister Antonis Samaras has planned.
Corrections to the thorny issue of property tax to be imposed this year are to be submitted in Parliament August 26 while the overhaul of civil servants' salaries and pension reform will also be introduced.. With these issues settled and voted for, the PM is expected to discuss a series of tax breaks that he plans to introduce with troika officials
Samaras will then head to Brussels for crunch-talks with newly elected European Commission President Jean-Claude Juncker, on August 30. Said changes to the tax system as well as the future of Greece's relations with the troika are expected to be thoroughly discussed. Switching to a 'reform-for-debt-relief' scheme with lighter supervision is reportedly among options being up for discussion.
The PM will have with him full reports prepared by cabinet ministers that indicate progress made and goals achieved in terms of economic reform and fiscal policy.
The Thessaloniki International Fair that will run from September 6 to 14 is the venue where Samaras hopes to announce positive outcomes from his meeting with Juncker and the troika and introduce tax breaks and longer repayment periods for citizens indebted to the state (the tax office and insurance funds).
In total, the debts towards the tax office are about 68 billion euros, while insurance funds are owed about 10 billion euros.
Convincing the troika to agree to the debt settlement plans proposed will be no easy task. Greek press reports suggest the IMF appears to be the most adamant about refusing a new settlement, as it believes that it would generate expectations for further settlements, which in turn will encourage non-payment and the creation of further debt.