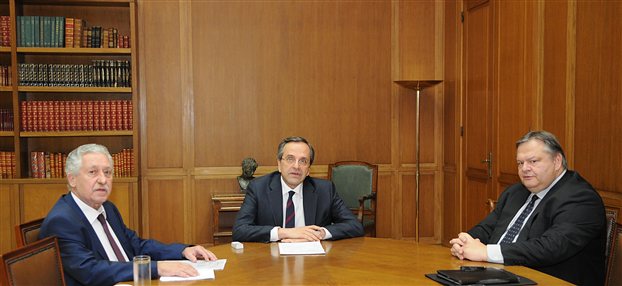 By Lefteris Yallouros – Athens
An ideological battle brewing within the Greek government threatens to throw the ruling coalition of right wing New Democracy, socialist PASOK and the Democratic Left (DIMAR) deep into crisis.
While pollsters focus on the traditional left-right divide mirrored in the battle between New Democracy and main opposition SYRIZA (latest opinion polls show PM's Antonis Samaras' party leads by 2.4 pct), it is the junior partners of Mr. Samaras that are giving him a political headache these days.
PASOK leader Evangelos Venizelos is evidently seeking for ways to bring the socialists back into favor with voters. The party is given 4.7 pct in an opinion poll published Sunday, down from 12.28 pct in the June 2012 election and miles away from the 30 and 40 pct territory it used to enjoy a few years back when it was in power.
The Democratic Left led by Fotis Kouvelis isn't fairing much better in polls either. DIMAR currently enjoys a 3.8 pct share of voter preference, only 0.8 percentage points more than the 3 pct needed to enter parliament.
Venizelos criticized the government over the weekend over the issue of an anti-racism bill being discussed. PASOK and the Democratic Left favor an overhaul of anti-racism legislation with stricter penalties for racist attacks that are on the rise, while the Conservatives aren't keen on changing existing laws at all. Venizelos said that the differences over the issue within the coalition are damaging the government's image. Kouvelis joined the war of words by stating "those who say the existing law is sufficient are wrong".
In a crisis meeting on the issue Monday night a government meltdown was averted as Samaras, Venizelos and Kouvelis agreed to disagree, albeit temporarily. Kouvelis strongly criticised the Parliament's legislative committee for coming out against the bill just two hour before the leaders' meeting started. PASOK is now likely to bring its own bill to Parliament while the Democratic Left will not back down either unless the existing draft law sponsored by the Justice Ministry is at least discussed in the house.
Observers point out that similar rifts are likely to blossom from now on as both Evangelos Venizelos and Fotis Kouvelis do not wish to see their parties losing any more ground to left-wing, main opposition, SYRIZA led by Alexis Tsipras. Mr. Tsipras is chipping away at PASOK and DIMAR percentages in recent polls.
Both parties need to win back their supporters by appearing somewhat distinct from the conservatives they have partnered with.  With the need for more austerity measures out of the way until 2015, they can capitalize on the success of stabilizing the economy while vouching for left-wing policies their supporters could relate to.