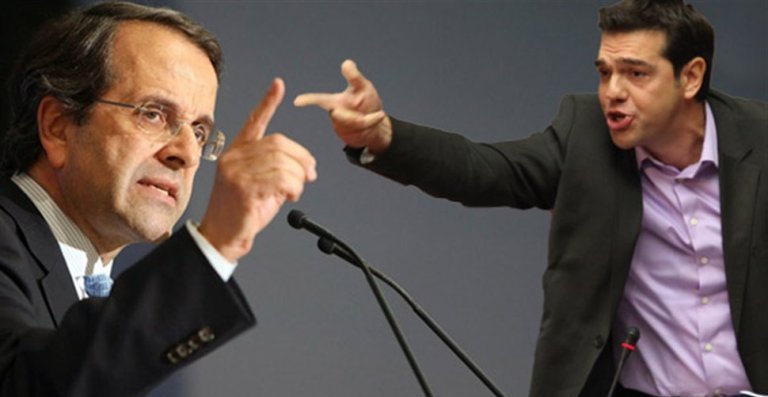 Review Hari Stefanatos
Greek government and main opposition SYRIZA have started a battle of words regarding the publications of the Financial Times on the "Plan Z", which spoke of a possible Greek exit from the eurozone in June 2012 and the decision by George Papandreou to call on a referendum.
After the attack by SYRIZA to Antonis Samaras and Evangelos Venizelos, whom they accused of not negotiating anything while at the same time conspired "to create a vicarious 'memorandum government'", the government spokesperson, Simos Kedikoglou, responded.
"Two days ago SYRIZA started a dirty mud war against the government, supporting its slander in alleged publications of the Financial Times. And now that based on the actual reports it is revealed that the country was one step away from the exit from the eurozone and the complete disaster, which was averted at the last minute, instead of asking for a public apology, it continues to insult and defame", he noted.
"We leave it to the judgment of the Greek people, who now know the true reports", Kedikoglou added, wondering in an ironic tone: "That which remains unanswered, however, and we ask for one more time, is why SYRIZA, which had at the time characterized the referendum a "political trick", is today defending it. We expect their answer".
Earlier SYRIZA had expressed the position that the reports in the Financial Times expose both Antonis Samaras and Evangelos Venizelos, accusing them of not negotiating anything when they knew that "no one would have dared take the destructive risk of kicking us out of the eurozone".
They accused them that they "conspired behind the scenes, in Cannes with Barroso, to proceed with a vicarious 'memorandum government'".
In a relevant statement, SYRIZA also said that everything that sees the light of day, but also that which is directly or indirectly admitted by the Greek and foreign officials confirm with absolute certainty what SYRIZA had been saying from the beginning: "That is to say, a possible exit of Greece from the eurozone would trigger a domino of economic implications on the other countries and would have shatter the eurozone itself, as was explicitly acknowledged by Mrs Merkel".
In its rejoinder, the main opposition party once again "attacked" the Prime Minister: "When from sky was raining reliability and honesty, Mr. Samaras was holding an umbrella. The unreliable Samaras when he was speaking against the memorandum in the interior, he was agreeing with Mr. Barroso abroad, to avoid at all costs the judgment of the Greek people and the elections, but also to continue on his way of memorandum destruction and subjugation".
(Source: Naftemporiki)