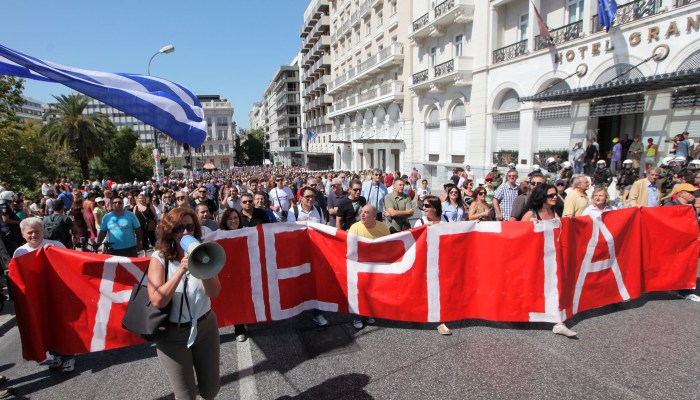 By Spiros Sideris – Athens
Radical changes in the status quo of strikes is promoted by the government with a new law that is coming at the end of 2014.
According to the newspaper "TA NEA" the government appears committed to proceed with the change of the trade union law by the end the year, after a dialogue with the trade unions, although already PASOK has expressed its opposition to such a scenario. The matter will be discussed with the troika, which will be in Athens in the next days.
The four main changes that are planned, according to the newspaper "TA NEA" are:
1. Changes in how strikes are decided. With the planned changes, for a strike to be legal it must be voted for by the 50% +1 of the union members
2. The reinstatement of lockout. This concerns a law from 1976, which enables an employer to close down his business if the strike goes on for a prolonged period, a measure that is in effect in many European countries.
3. The reviewing the financing arrangements of the unions. To date, funding is provided from the state through an endowment withheld by the employer as a percentage of the contributions he has to pay to employees. In Europe, the financing is covered by the subscriptions of union members
4. Changes in the status of trade licenses. There will be stricter requirements in terms of who should benefit and how it will be administered.
While the government is considering changes in the trade union law, the elements of the General Confederation of Greek Workers (GCGW) show the crisis of unionism. The Labour Institute of GCGW for the first time records the data of strikes in its report on the "Labour Relations in Europe and Greece" in 2012. The data show both the impact of the crisis on workers, and the other chronic "diseases" of the trade union movement in the country .
Of the 445 strikes that took place in Greece in 2011, 161 were in the government and public enterprises and entities (SOEs). The key demand in the private sector is the reinstatement in the cases of redundancies and the defrayment of the accrued, while in the cases of public services and SOEs the request changes to the "non-restructuring" of the public sector. It is also noted that several nationwide strikes at tertiary national level with labor but also wider social demands have become points of controversy between the government and the opposition.