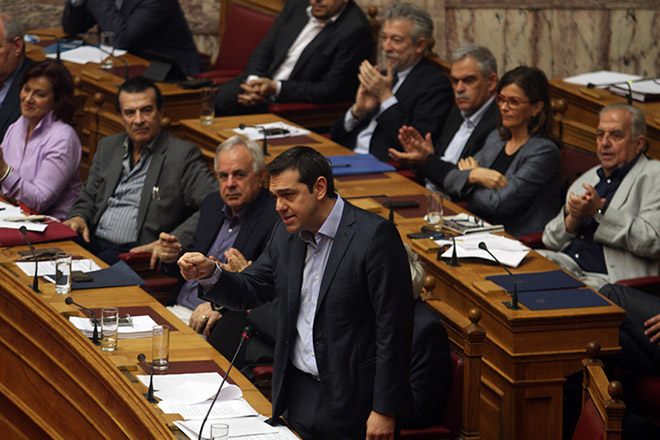 Athens, December 14, 2015/ Independent Balkan News Agency
By Zacharias Petrou
Any hope the Greek government may have had that the International Monetary Fund (IMF) could not be included in the country's bailout program were dashed over the weekend.
"There is no chance that the first review will conclude without the IMF," Eurogroup Working Group President Thomas Wieser told Greek newspaper Kathimerini.
"This is not my personal opinion or that of EU institutions, but a reality that occurs from the parliamentary procedures in some member states," he said.
Greek Prime Minister Alexis Tsipras had recently expressed the view publicly that the IMF was no longer needed to be part of the Greek bailout since the country will need less funds after a successful recapitalization of its banking system.
Tsipras said that the Fund's demands over the reforms Greece must carry out were too harsh.
Among other EU officials who spoke out against the idea of the IMF being left out of the Greek bailout, German Finance Minister Wolgang Schaeuble was the most vocal and unequivocal in his opposition to the Greek PM's views.
The Head of the European Stability Mechanism (ESM), Klaus Regling, also said on Saturday that the IMF would participate in Greece's bailout, albeit with a small contribution.
However, speaking to Greek weekly newspaper To Vima, Regling also gave Athens something to look forward to: "We will aim to smoothen the profile of Greece's debt […] If we manage to extend a little more the period of the already very low repayments, then we will attract investors," he said.
The Greek government has made debt relief its primary objective in its strategy to get the economy growing. This is mainly why it has compromised greatly – in terms of its ideological standpoint – in negotiations with creditors and accepted sweeping reforms in a vast field of policy areas.
Last Friday Athens and the "quadriga" of the country's lenders shook hands on the details of the 13 prior actions that are be included in legislation brought to parliament over the weekend. A vote on the measures will be held on Tuesday in order to unlock the next loan tranche from the third bailout.
A Euro Working Group meeting will then follow on Wednesday to decide if the next 1-billion-euro bailout installment can be disbursed.